Subjects
English
The English department aims to inspire creative and enquiring minds through exposure to a wealth of high-quality literary texts from a variety of cultures. Our vision is to encourage an appreciation of the world through an understanding of how language works, so that all pupils can engage with and realise the diversity of language they are surrounded by in daily life. We aim to cultivate a learning environment where all pupils become confident in their own ability and creativity, appreciating the values of others, whilst feeling motivated to achieve above and beyond expectations.
Every English teacher at Thornhill has a real passion for literature. Great writers help us to make sense of the world around us. Our overall aims are to develop the knowledge and skills required to ensure that pupils can confidently write in a range of different styles, developing passionate speakers, readers and writers who can go on to make valuable contributions to society. There is a strong emphasis on planning as well as recalling prior learning, ensuring that essential knowledge and ideas are retained across both key stages. The department is committed to equal opportunities and believes in the right of every student to succeed, regardless of ethnic background, gender, or ability. We strive to provide cultural, social, moral and spiritual guidance through discussions arising from texts studied.
Our three-year KS3 programme offers an engaging learning journey, focusing on building upon and consolidating knowledge and skills introduced at KS2. Our schema is designed to support our pupils to clearly articulate their thoughts and ideas to their peers as well as in their writing. The curriculum covers a variety of genres, popular literary canon texts, the classics, as well as a vast range of poetry, both contemporary and historic fiction and non-fiction texts.
Common threads run through each unit, providing pupils with opportunities to build on existing knowledge. They will explore challenging concepts throughout each unit such as how and why stories develop and change over time, how different writers are inspired by each other, as well as social issues explored through their writing. They will also be encouraged to evaluate why the world needed to change to support their cultural, social, moral and spiritual development.
As pupils transition into KS4 they will have a solid foundation of knowledge from KS3 which will be expanded upon as they continue on their journey of self-discovery. At Thornhill, we believe that KS4 should not focus entirely on skills and knowledge required solely for examinations. It is vital that we continue to enrich their understanding of the world by exploring how writers convey their perspectives to make changes to the world around them, challenging them to do the same as we broaden their ambitions.
Pupils will study thematic units which combine Literature and Language content and skills whilst following the AQA English Language (8700) and English Literature (8702) specifications. Wider reading texts accompany each unit to present increased challenge whilst exploring the relevance of the literature texts they are studying. By the end of their educational journey at Thornhill, pupils will have a comprehensive understanding of the power of language, which is a lifelong skill.
In addition to the curriculum, we facilitate a culture of reading for pleasure as all pupils have access to a Library to encourage independent reading, as well as timetabled reading lessons each week for all KS3 pupils.
Our celebrations of National Poetry Day and World Book Day provide pupils with a variety of activities including poetry recitals, sharing of favourite texts, quizzes, competitions and other creative activities. We continue to celebrate the fact that many of our pupils are published authors in their own right.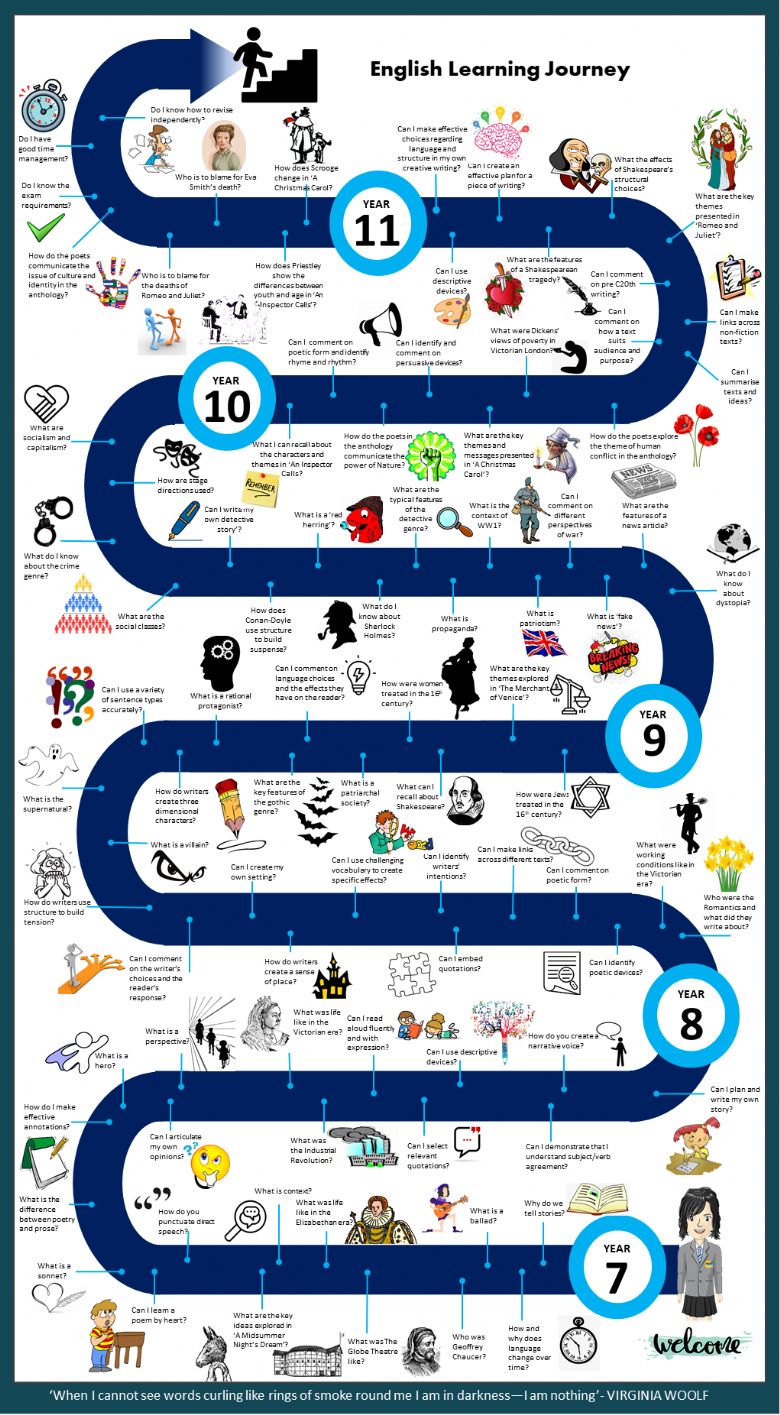 Mathematics
Mathematics is taught as a specialist subject at Thornhill Academy.
The KS3 curriculum has been designed to consolidate and build upon prior learning from KS2. At KS3 we aim to ensure all students:
Have access to a high-quality curriculum that is both challenging and enjoyable to learn.
Are provided with a variety of mathematical opportunities, which will enable them to make the connections in learning needed to enjoy a greater depth in learning.
Develop the fundamentals of mathematics, including through varied and frequent practice with increasingly complex problems over time, so pupils develop the ability to recall and apply knowledge rapidly and accurately.
Can solve problems by applying their mathematics to a variety of context with increasing sophistication, including breaking down problems into a series of simpler steps and persevering in seeking solutions.
Reason mathematically by following a line of enquiry, identifying relationships and generalisations, and develop an argument, justification, or proof using mathematical language.
Ensure children are confident mathematicians who are not afraid to take risks.
The curriculum across Key Stage 3 and Key Stage 4 follows a learning journey based around the National Curriculum. It is designed and organised into six domains: Algebra, Geometry & Measures, Number, Probability, Ratio & Proportion and Statistics. The content is sequenced as such that pupils can make and develop connections across mathematical ideas to increase their mathematical fluency, reasoning and competence in solving problems.
The expectation is that the majority of pupils will move through the learning pathways at broadly the same pace. Pupils who grasp concepts rapidly will be challenged through being offered rich and sophisticated problems before any acceleration through new content. Those who are not sufficiently fluent with earlier material should consolidate their understanding through additional practice before moving on.
The Key Stage 3 schemes are set up to follow the same subject areas throughout the year to ensure with any movement a pupil will not miss out or repeat any part of the subject. The Key Stage 4 learning pathway consolidates and builds upon the prior learning from Key Stage 3 while following the Foundation or Higher subject-specific content. Currently, the department enters Foundation Tier candidates for the Edexcel 1MA1 GCSE, and Higher Tier candidates for the AQA 8300 GCSE.
Skills and stamina-building will be addressed through the use of retrieval starter activities to ensure 'sticky knowledge' and each scheme is accompanied by homework which is collected on a minimum of once every two weeks, usually online via Mathswatch - an online learning platform which all pupils at Thornhill have access to.
There is a responsive and reflective assessment style approach across the curriculum to ensure pupils are taught to their individual needs.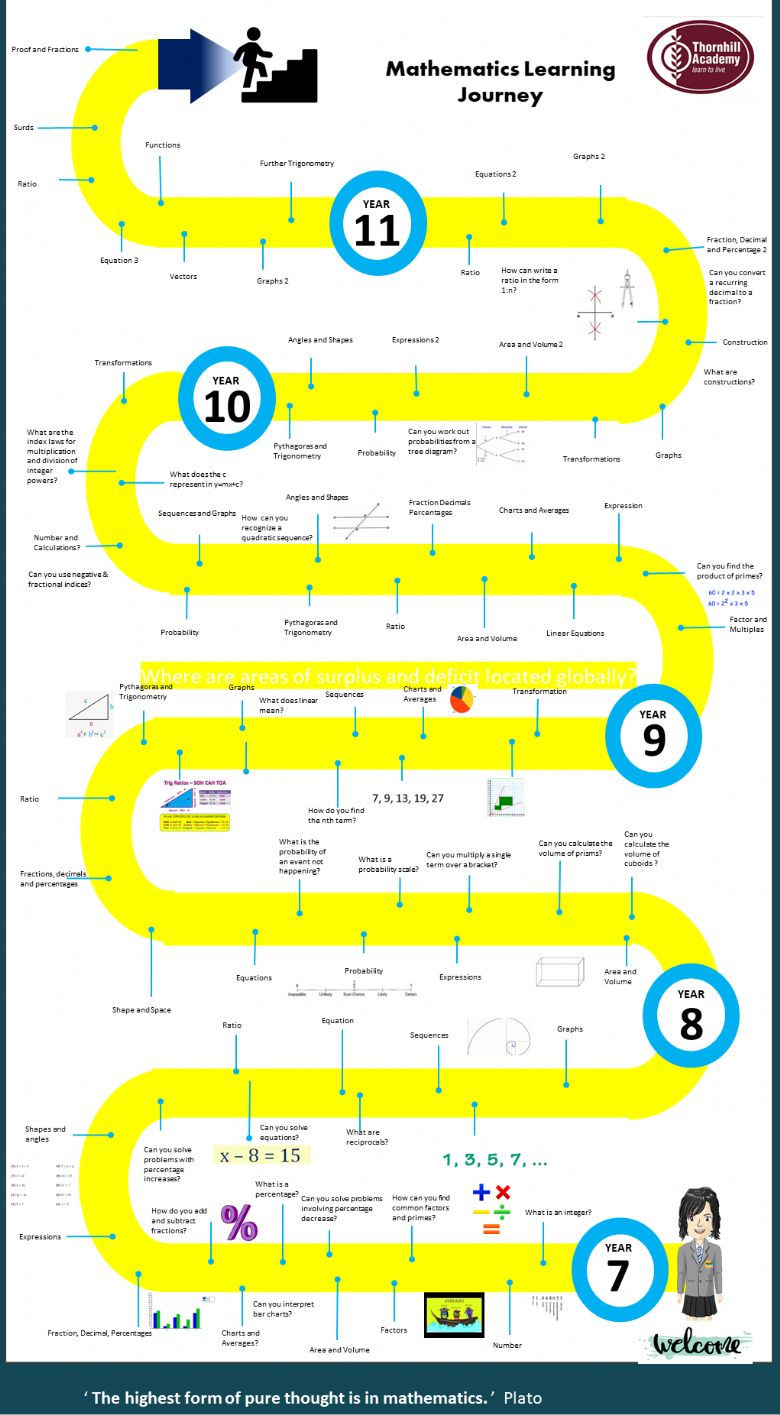 Science
The Science Department believes that our subject is a fundamental part of everyday life and is essential to our understanding of the world. The overarching intention of Science is to provide students with a rewarding and productive learning experience that leaves them with a lasting, positive view of Science and its contribution to society.
The Science Learning Pathway consolidates and builds on prior learning from Key Stage 2. The Key Stage 3 programme of study focuses on developing essential content and skills, introducing and revisiting topics across 3 years to help create engaging lessons and prepare learners for the demands of GCSE Science.
'Big Ideas' interlink topics with Key Stage 3 and 4 programmes of study. This Learning Pathway aims to support the development of transferrable life and employability skills.
Key Stage 3 Science
The Key Stage 3 science curriculum aims to ensure that all pupils:
Develop scientific knowledge and conceptual understanding through the specific disciplines of biology, chemistry and physics
Develop understanding of the nature, processes and methods of science through different types of science enquiries that help them to answer scientific questions about the world around them
Are equipped with the scientific knowledge required to understand the uses and implications of science, today and for future employment.
| Yr7 Units of Work | Yr8 Units of Work | Yr9 Units of Work |
| --- | --- | --- |
| Energy | Waves | Atoms |
| Particles | Nutrition & Digestion | Human Body & Substances |
| Cells | Periodic Table | Matter |
| Forces | Energy Resources | Acid Reactions |
| Elements, Compounds & Mixtures | Respiratory & Circulatory Systems | Genetics |
| Reproduction | Chemical Reactions | Electricity in the Home |
| Electricity | Magnetism | Rates of Reaction |
| Acids & Alkalis | Obtaining Metals | Human Impact on Biodiversity |
| Health & Disease | Light | Bonding |
| Waves | Plants | Forces & Motion |
| Earth & Atmosphere | Energetics | Periodic Table |
| Ecosystem | Space | Cell Biology |
Key Stage 4 Science
The GCSE Science course is based on the Key Stage 4 Programme of Study for Science. Students are given the opportunity to study either Combined Science or Separate Sciences.
The content is split into units relevant to students in their everyday life and the specification allows the opportunity to explore work-related learning in science where appropriate.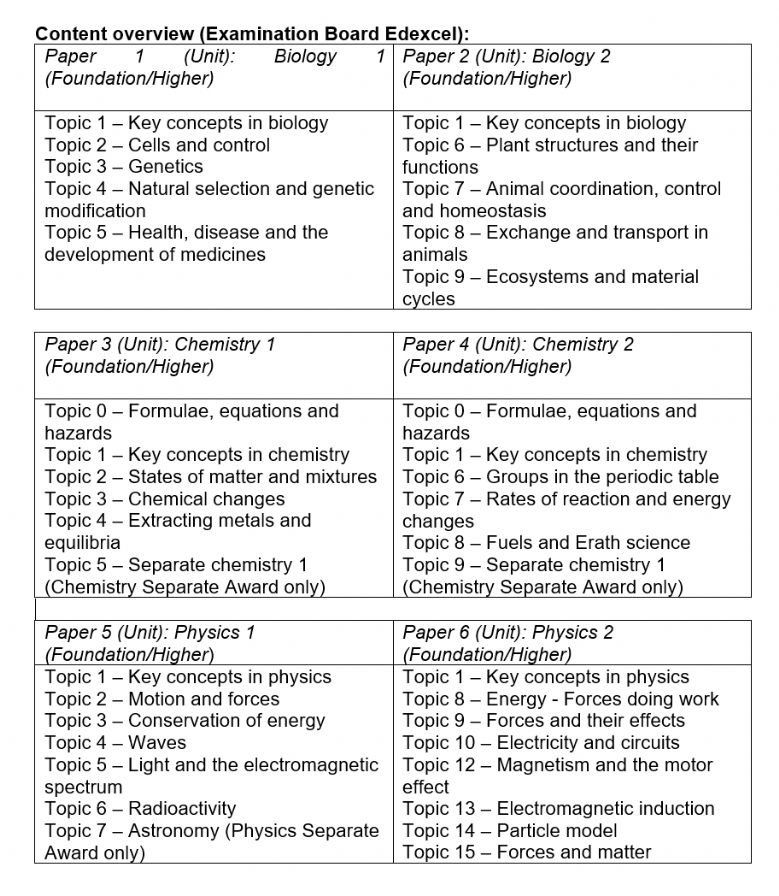 Wider Curriculum
The Science curriculum is enriched through a range of activities each year including;
National British Science week
Visits from local universities & colleges including STEM careers talks
Yr 7 & 8 Science club
Yr 9, 10 & 11 STEM club (CREST Awards)
STEM visits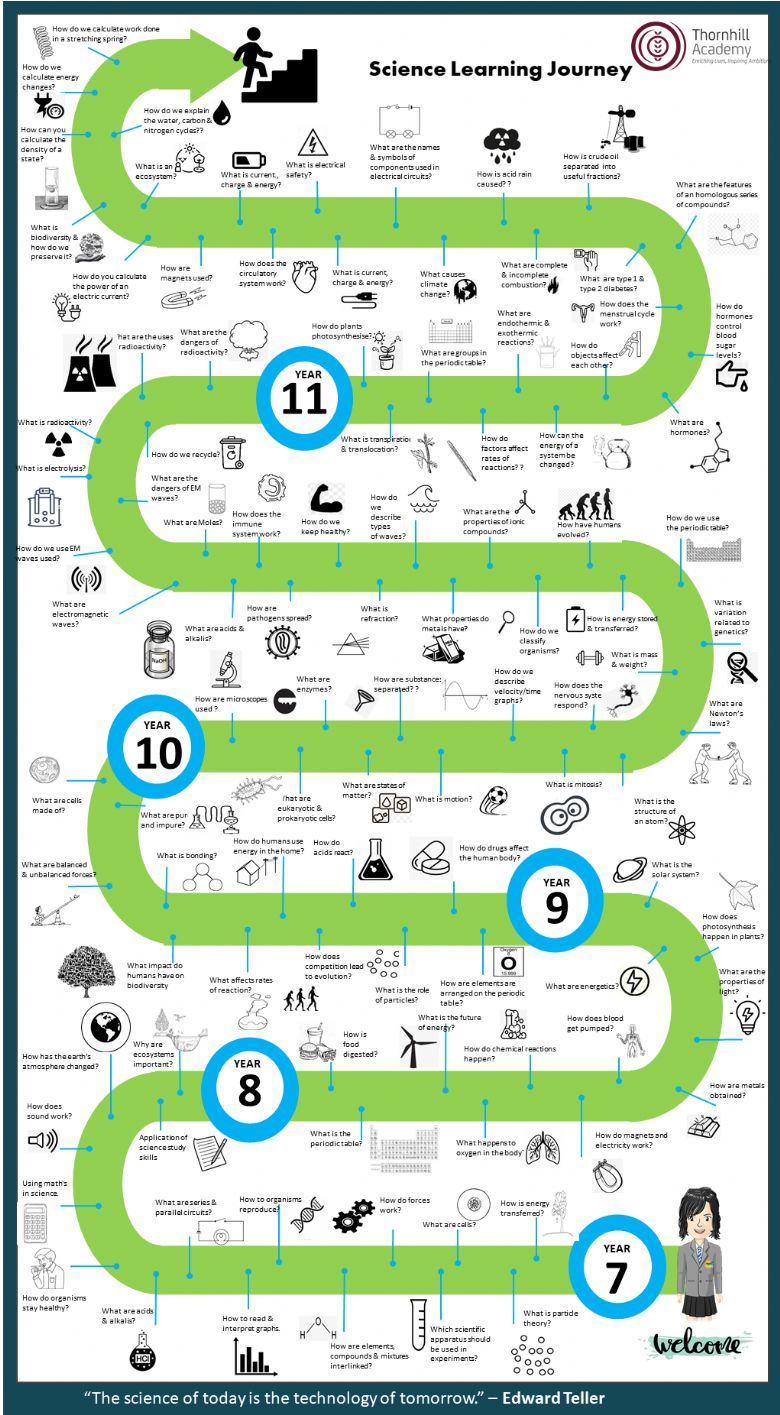 Art and Design
Examples of Art, Design, and Graphic Communication are all around us, enriching our lives and the environment we live in. Pupils at Thornhill Academy are given the opportunity to appreciate the work of a variety of artists, photographers, and designers. They are taught a wide range of media and drawing skills which they build upon project by project, gradually becoming more independent so they are prepared for the challenges of GCSE.
Key Stage 3
Our Key Stage 3 curriculum aims to engage, inspire, and challenge pupils in a rich and diverse range of Art and Design processes and practices. Pupils will be equipped with the knowledge and skills to purposefully experiment, develop, and create their own personalised artwork with increasing proficiency and resilience.
Pupils will enquire and think critically about Art and Design to inform their own ideas and thoughtful reflections. Pupils will develop an understanding and appreciation of how Art and Design both shapes and reflects our history, culture, and creativity.
In year 7, pupils learn essential drawing and painting skills to enable them to observe and record with increasing fluency. They build upon the foundations at KS2 to develop their knowledge and skilful use of formal elements such as colour, pattern, texture, and tone before combining all of these in an extended cultural project.
In year 8, pupils explore the Pop Art movement, its influences and how it influences art today. Through experimenting with media and analysing the work of others, pupils produce both 2D and 3D outcomes. Pupils develop their ability to respond imaginatively to the work of others in a creative landscapes project to round the year off.
In year 9, pupils explore meaning and messages in artwork through a Street Art project. Here pupils begin to express their own views and ideas with greater independence and conviction, while learning new printing and painting techniques. Pupils also revisit drawing skills through the theme of portraiture before developing their own personalised response to this theme
Key Stage 4
In Key Stage 4, pupils can opt for one of three GCSE specifications: Art & Design, Photography, or Graphic Communication. These are all two-year AQA courses and are based on 60 per cent coursework and 40 per cent externally set assignment. The coursework consists of students producing a portfolio of work which includes a minimum of two projects.
Pupils build upon their knowledge and experience to analyse and evaluate the work of others as a source of inspiration. They purposefully experiment and develop their ideas using a wide range of traditional and digital media, often combined together. Pupils work with increasing levels of independence to explore and steer their own ideas. They then use this development to lead them to a personalised final piece.
The externally set assignment preparation is completed in lesson time over a period of several weeks before students have an un-aided, ten-hour period of time to create their final piece.
Find out why art education is important from artists, young people and major cultural figures by clicking the link below.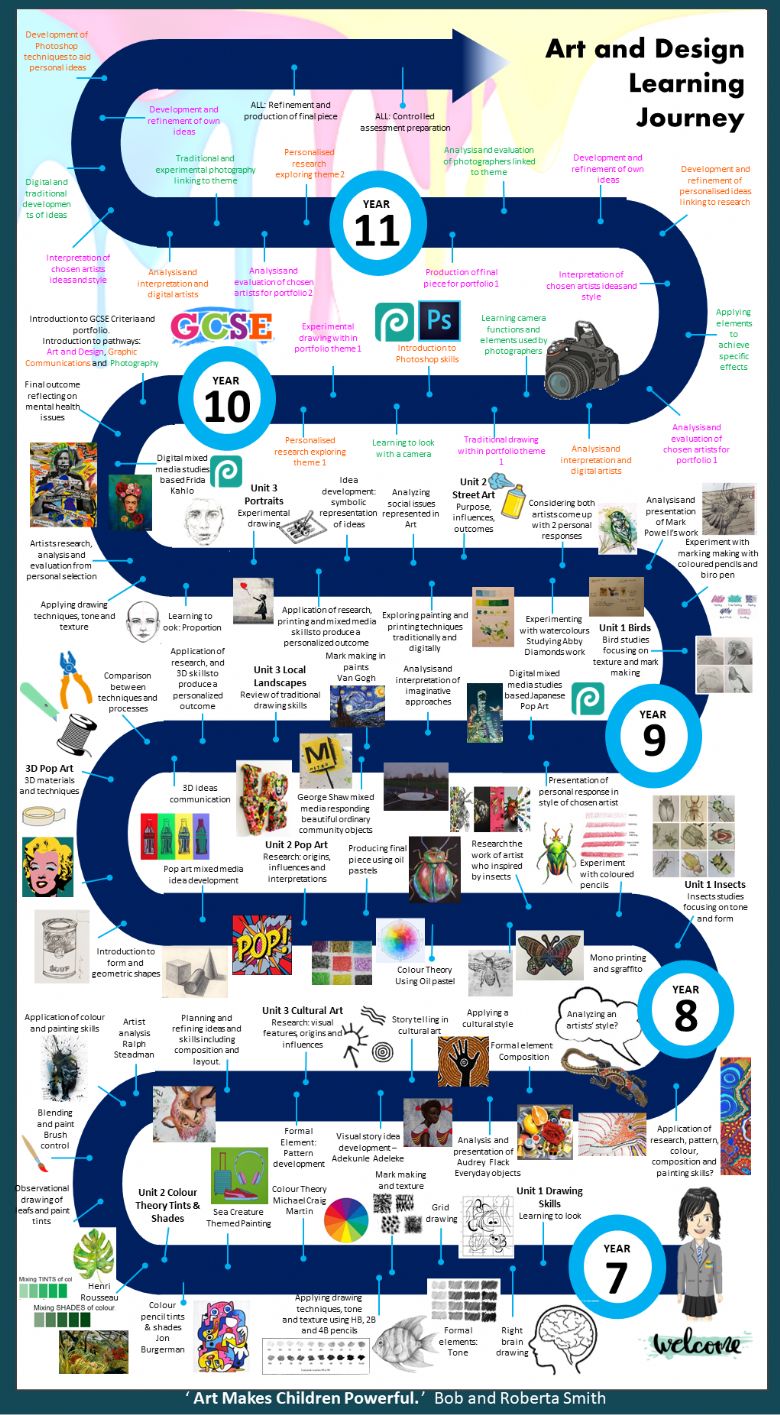 IT and Computing
At Thornhill Academy, we want pupils to THINK BIG. We teach Computing, ICT, and Enterprise at Key Stage 3 to equip our pupils with computational thinking and creativity, to understand the digital world and to build entrepreneurial spirit and skills, to prepare them for modern life.
Through a series of projects, based on real and fictitious business scenarios, pupils are taught the principles of information technology and computation, how digital systems work, and how to put this knowledge to use through programming. Pupils are equipped to use ICT, to create programs, to apply their knowledge to business situations, to become digitally literate, and to be able to use information and communication technology to express themselves and develop their ideas, at a level suitable for their future workplaces, and as safe and active participants in a digital world.
The department currently delivers ICT and Computing to all pupils in Key Stage 3 which follows the National Curriculum.
In Year 7 pupils complete five units of work:
Safety First
The Internet
I Am A Blogger
Programming in Scratch
Spreadsheets
In Year 8 pupils develop this knowledge in six further units:
Web Development
Understanding Data
I Am a Machine
Programming in Edublocks
Introduction to Python
Online Marketing
In Year 9, the curriculum is structured so pupils have the chance to develop skills necessary for a range of courses at Key Stage 4:
Cybersecure
Python Plus
Databases
Digital Entrepreneurs
GCSE Computer Science
At Key Stage 4 students can choose to study GCSE Computer Science. This course is engaging and practical, encouraging creativity and problem-solving. It encourages students to develop their understanding and application of the core concepts in computer science. Students also analyse problems in computational terms and devise creative solutions by designing, writing, testing, and evaluating programs.
Component 01: Computer systems
Introduces students to the central processing unit (CPU), computer memory and storage, data representation, wired and wireless networks, network topologies, system security and system software. It also looks at ethical, legal, cultural and environmental concerns associated with computer science.
Component 02: Computational thinking, algorithms and programming
Students apply knowledge and understanding gained in component 01. They develop skills and understanding in computational thinking: algorithms, programming techniques, producing robust programs, computational logic and translators.
Practical programming
Students are to be given the opportunity to undertake a programming task(s) during their course of study which allows them to develop their skills to design, write, test and refine programs using a high-level programming language. Students will be assessed on these skills during the written examinations, in particular those learnt in component 02.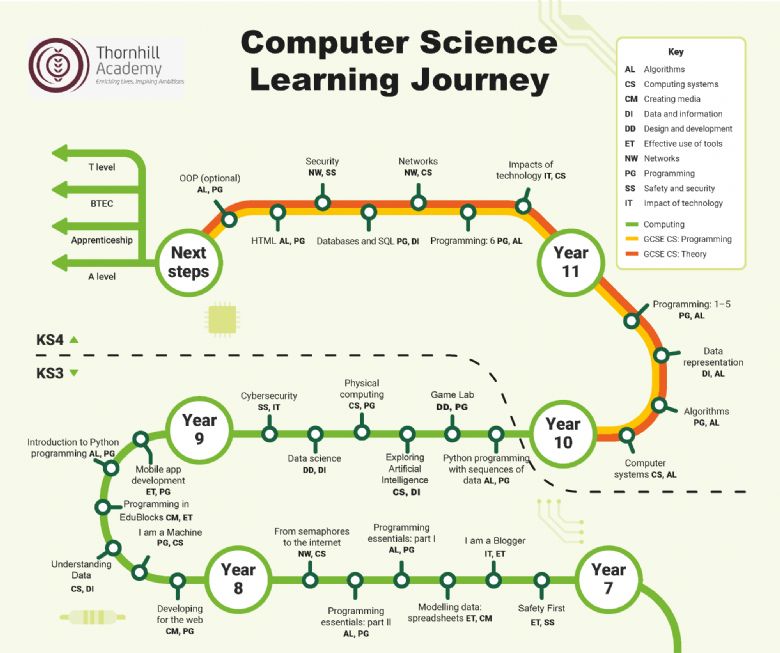 Technology
Using creativity and inspiration within the subject of design and technology, pupils create products that solve real and relevant problems within a variety of contexts, considering their own and others' needs, wants and values. They acquire a broad range of subject knowledge and draw on disciplines such as mathematics, science, engineering, computing and art. Pupils learn how to take risks, becoming resourceful, innovative, enterprising and capable citizens. They develop critical understanding of how design and technology impacts on daily life and the wider world.
At Thornhill Academy we aim to ensure that all pupils develop the creative, technical and practical expertise needed to participate successfully in an increasingly technological world. We also want pupils to build a repertoire of knowledge, understanding, and skills in order to design and create high-quality prototypes and products for a wide range of users. Pupils will learn to be critical thinkers by constantly evaluating and testing products both independently and with others. They will also consider the principles of nutrition while learning how to prepare dishes using a variety of commodities demonstrating various preparation and cooking techniques.
Key Stage 3 Design and Technology
In year 7, pupils start their learning journey investigating different materials such as paper, boards, systems, and control. Additionally, students start to understand the design process such as specifications, research methods, initial ideas, and evaluation. Built within the design process, students also learn the different ways to illustrate these ideas through various graphic communications, such as hand drawing styles and CAD/CAM.
In year 8, we build upon the knowledge of the design process by starting to get pupils to engage in writing specifications to further develop their initial ideas. This is achieved by looking at further materials – such as textiles and polymers – their origins and uses in everyday life. In addition, students will develop their practical skills of cutting, shaping, joining, and applying finishes, while looking at different hand tools and machines, which can be used for different processes to achieve various outcomes. This enables students to build their knowledge and confidence in the workshops.
In year 9, students experience more autonomy applying skills gained in year 7 and 8, into the design process to improve problem-solving, and provide real-world scenarios. Further materials are introduced such as natural timbers and manufactured boards, increasing knowledge. The aim is to provide a holistic overview of design and technology while providing an insight into KS4.
Key stage 4 GCSE Design and Technology.
GCSE Design and Technology at Thornhill builds upon knowledge and skills from KS3 and prepares students to participate confidently and successfully in an increasingly technological world. Students will learn from a wide range of influences including historical, social, cultural, environmental, and economic factors. Students will get the opportunity to work creatively when designing, making, and apply technical and practical expertise.
They will also have the opportunity to study specialist technical principles in greater depth. We work towards a grade of 1-9 in Design Technology which consists of two mandatory units of work. Unit 1 is studying the core technical, designing, and making principles, including a broad range of design processes, materials techniques, and equipment which equates to 50 per cent of the mark with a final 2 hour written exam taken at the end of year 11.
The second unit is a Non-Exam Assessment (NEA), or coursework, which is externally set and begins in the summer of year 10. This adds up to the final 50 per cent of the final grade. Part of the assessment changes each year and is set by the exam board, the task consists of an everyday problem in society where pupils work on a viable solution and prototype model. The qualification supports the progression to study in further education, apprenticeships, or employment in the industry.
Key Stage 3 Food Technology
As part of their work within food technology, pupils will be taught how to cook and apply the principles of nutrition and healthy eating. They will learn how to cook predominantly savoury dishes, so that they are able to feed themselves and others with a healthy and varied diet. Pupils will become competent in a range of cooking techniques and will learn food provenance, seasonality and characteristics of a broad range of ingredients to allow them to make informed decisions when planning a menu.
In year 7, pupils learn basic nutrition linked to 'The Eatwell Guide' and specific government guidelines to ensure an understanding of a healthy diet and lifestyle. They build on this knowledge to design dishes that cater for specific needs. They also link provenance knowledge to environmental issues and how this can effect moral consideration when buying food.
Practically pupils learn basic knife skills, heat control, how to use a food processor and portion control by producing predominantly savoury dishes.
In year 8, pupils build on nutritional knowledge by looking at the effects of malnutrition on the body and energy balance linked to energy drinks. They will also look further into food provenance by learning about food from different countries, cultures and religions, thus allowing them to make informed decisions when catering for individual needs.
Practically pupils will further advance by using more technical skills such as yeast dough production, the rubbing-in method, melting and creaming method of cake production, an electric whisk, sauce skills, including a roux sauce demonstrating reduction to thicken and presentation techniques.
In year 9, pupils will further develop nutritional knowledge by identifying dietary needs at different life stages and why certain nutrients are needed. They will also explore food provenance by building on prior learning and reviewing food miles and the effect they have on the environment along with food waste and solutions to solve this growing issue.
Practically pupils will focus on products that contain the commodity cereal by making bread shapes, savoury short crust pastry pie and cupcakes piped with butter cream icing. They will then prepare more challenging dishes that are full meals using a range of commodities and thereby broaden their culinary skills.
Key Stage 4 Level 1/2 Award in Hospitality and Catering
Hospitality and Catering is Britain's fourth largest industry and accounts for around 10% of the total workforce. With this in mind, it is an important subject of study at Thornhill Academy. We work towards a level 1/2 Award in Hospitality and Catering which consists of two mandatory units of work. 'The Hospitality and Catering Industry' (Unit 1), which is an externally assessed written exam paper which lasts for 1 hour 30 minutes and is worth 40% of the final overall grade. 'Hospitality and Catering in Action' (Unit 2), is an internally assessed 9 hour controlled assessment, which is 1/3 practical. Pupils are required to research, plan, and make two nutritional dishes in a limited amount of time. This unit is worth 60% of the final course grade. This qualification supports learners who want to progress in this vocational sector and develop a career or go onto further study.
WJEC Level 1/2 Award in Hospitality and Catering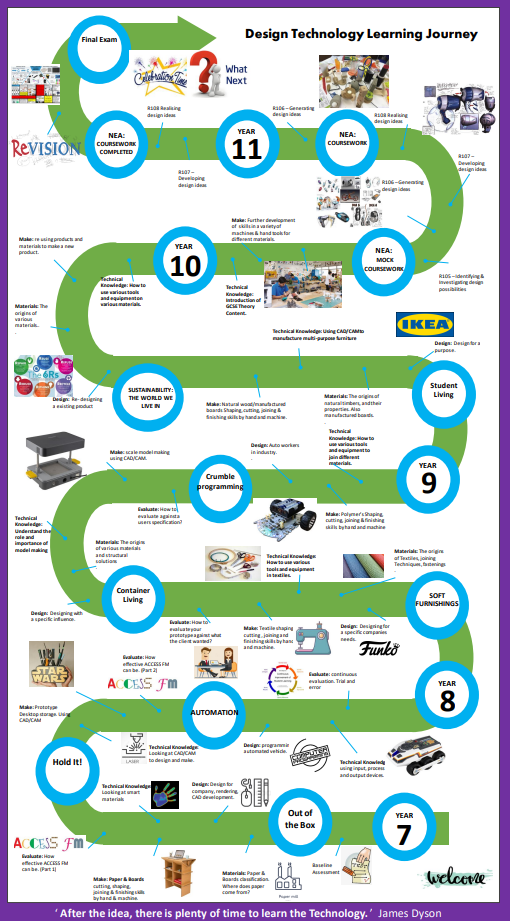 French
Modern Foreign Languages courses at Thornhill Academy aim to equip students with the necessary practical communication skills required for work and leisure. The course also intends to provide students with the linguistic foundation for further study.
Learning a Modern Foreign Language will help to open the doors to more jobs due to the fact that the ability to speak and understand a foreign language remains a specialist skill. It also provides a cultural awareness for all students that study it. Many UK exports go to Europe despite the fact that many companies still lack the specialist staff to conduct business in a foreign language.
Key Stage 3
At Key Stage 3, French is taught as a specialist subject and follows the National Curriculum. Students are offered the opportunity to learn, improve, and develop their knowledge, skills, and understanding to make progress in this subject.
In year 7, students acquire the basic understanding of the linguistic structures and patterns while learning how to describe themselves, talk about their families and interests, as well as discover more about the diverse French culture and traditions.
In year 8, students build upon their knowledge and learn how to describe holidays using different tenses, talk about festivals and celebrations, as well as develop more understanding of leisure time activities.
In year 9, students work to develop and understand more complex grammar structures including continued use of three tenses. They use these skills to discuss healthy living and illness, sport and fitness, and family relationships.
Key Stage 4
At Key Stage 4, students have the opportunity to study French as one of their pathways and embark on a two-year GCSE course. The department currently follows the AQA GCSE course which assesses the four language skills.
Students build upon KS3 knowledge and begin to learn more about the language. Topics such as home and local environment, holidays, social awareness, school, future plans, and the environment are studied. At the end of the course, students will complete four examinations in listening, speaking, reading, and writing.
Useful Links
https://www.aqa.org.uk/
https://www.euroclub-schools.org/
https://www.bbc.co.uk/bitesize
www.routesintolanguages.ac.uk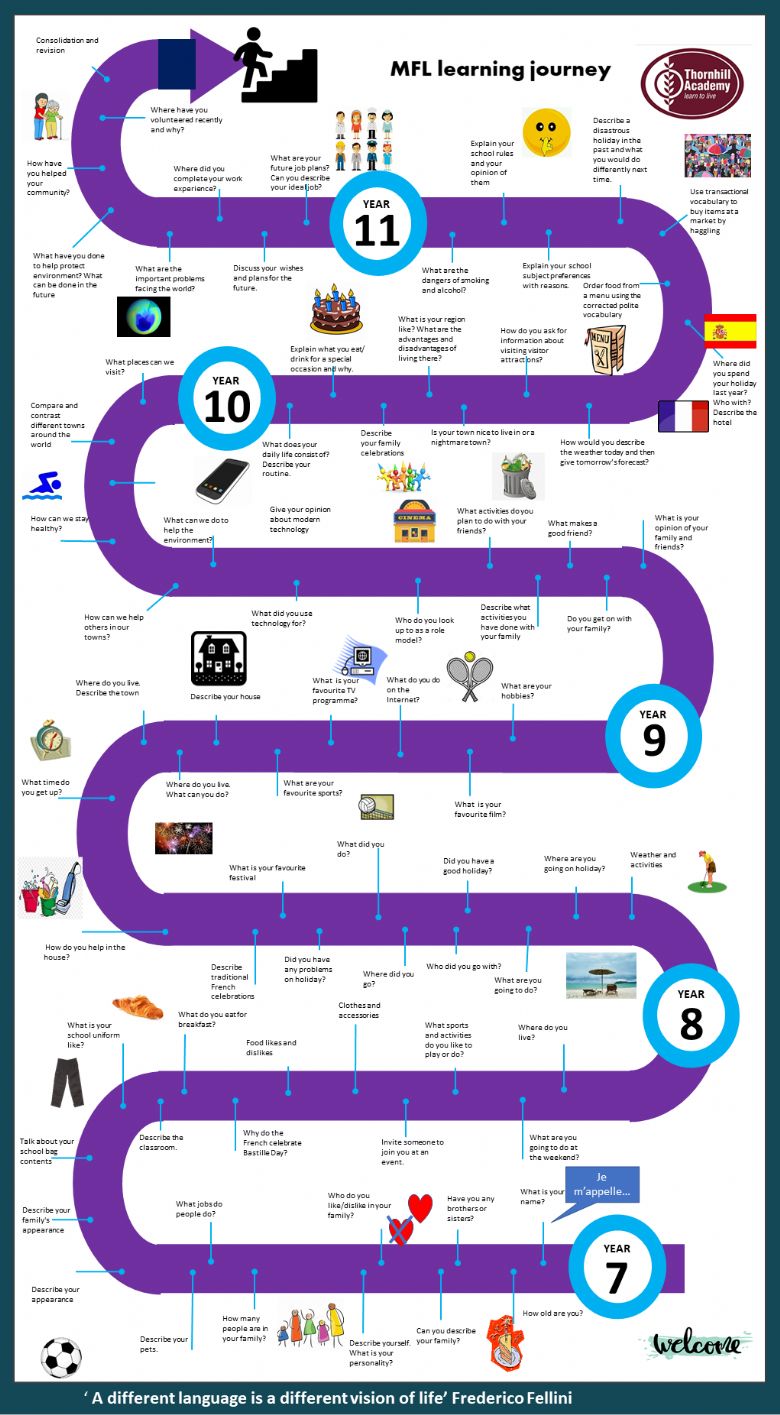 Geography
The Geography department aims to inspire pupils with a curiosity and fascination about the world and its people that will remain with them for the rest of their lives.
Teaching will equip pupils with knowledge about diverse places, people, resources, and natural and human environments, together with a deep understanding of the Earth's key physical and human processes. As pupils progress, their growing knowledge about the world will help them to deepen their understanding of the interaction between physical and human processes, and the formation and use of landscapes and environments. Geographical knowledge, understanding and skills provide the framework and approaches that explain how the Earth's features at different scales are shaped, interconnected, and change over time.
Key Stage 3
At Key Stage 3 the curriculum for geography aims to ensure all pupils:
develop contextual knowledge of the location of globally significant places, including their defining physical and human characteristics
understand the processes that give rise to key physical and human geographical features of the world and the impact these processes can have on people and places
We also aim to ensure all pupils are competent in the geographical skills needed to:
collect, analyse, and communicate with a range of data gathered, through experiences of fieldwork that deepen understanding of geographical processes
interpret a range of sources of geographical information, including maps, diagrams, globes, aerial photographs, and Geographical Information Systems (GIS)
communicate geographical information in a variety of ways, including through maps, numerical and quantitative skills, and writing at length
Key Stage 4
At Key Stage 4, the curriculum follows the GCSE AQA 8035. The course content builds and develops upon the knowledge, understanding, and skills developed at Key Stage 3.
The course is comprised of three examination papers. Units 1 and 2 are assessed in examinations of 1 hour and 30 minutes; each worth 35 per cent of the final mark. Unit 3 is assessed with a 1 hour and 15-minute examination and is 30 per cent of the final mark.
Unit 1 is the Physical Environment, this includes the topics of Natural Hazards, The Living World, and Physical Landscapes within the United Kingdom.
Unit 2 is the Human Environment, this includes the topics of Urban Issues and Challenges, The Changing Economic World, and The Challenge of Resource Management.
Unit 3 is Geographical Applications and includes the topics of Issue Evaluation and Fieldwork.
Pupils will develop their understanding of physical processes and factors that produce diverse and dynamic landscapes that change over time. They will learn to appreciate the differences and similarities between people, places, and cultures leading to an improved understanding of societies and economies.
Enquiry projects will develop questioning, investigation, and critical thinking about issues affecting the world and people's lives. Students will use varied resources including maps and visual media as well as complex technologies such as GIS and remote sensing, to obtain, analyse, and present information.
Students will develop essential skills such as problem-solving, decision-making, synthesising ideas, identifying issues, and communicating findings through the undertaking of a fieldwork investigation, individually and as part of a team.
To see where Geography can get you after GCSE, watch the video in the link below.
History
History has an important role to play in developing our pupils' understanding of the world they live in. It helps us answer those important questions; Why are we here? How did women gain the vote? How was Hitler able to carry out such crimes against humanity?
At Thornhill Academy, pupils are given the opportunity to learn about and appreciate how past events have shaped the present, with emphasis upon the development of the United Kingdom. Pupils are given opportunities to develop their skills through independent learning, teamwork, presentations, and research. At Thornhill Academy, history is brought to life, we provide pupils the opportunity to link historical events with local history, students are able to experience history through school trips, such as to Normandy and Poland, whilst also having the opportunity to speak to experts and analysing historical artefacts.
Key Stage 3
In year 7, pupils begin by studying the history of migration in Britain, further investigating how Britain has changed over time and became a multi-cultural society. Students then go on to study the history of Britain beginning at the Norman conquest, moving on to the Middle Ages and finishing with the Tudors. In year 8, pupils continue their study with the Stuarts, the Industrial Revolution, where pupils learn about the power of the people, the British Empire, and the First World War. In year 9, we continue to look at the development of Britain by beginning with the Second World War. Students then go on to study the history of the wider world as we look at the Holocaust, where pupils can have the opportunity to speak to a Holocaust survivor. We finish the year by studying USA and the Civil Rights movement. It is not just simply the acquisition of knowledge that is encouraged, but the development of the skills and experiences that will allow our pupils to become critical learners and ultimately, historians.
Key Stage 4
At key stage 4, the department follows the EDEXCEL specification. The topics covered in year 10 are Henry VIII and his ministers from 1509-1540 and American West from 1835-1895. In year 11 pupils study Medicine through time from 1250-present and Germany 1918-1939.
Student testimonial:
"I love learning about different time periods and how different it was to today. I also love comparing things back then, to today, because its fun to see how much society has changed."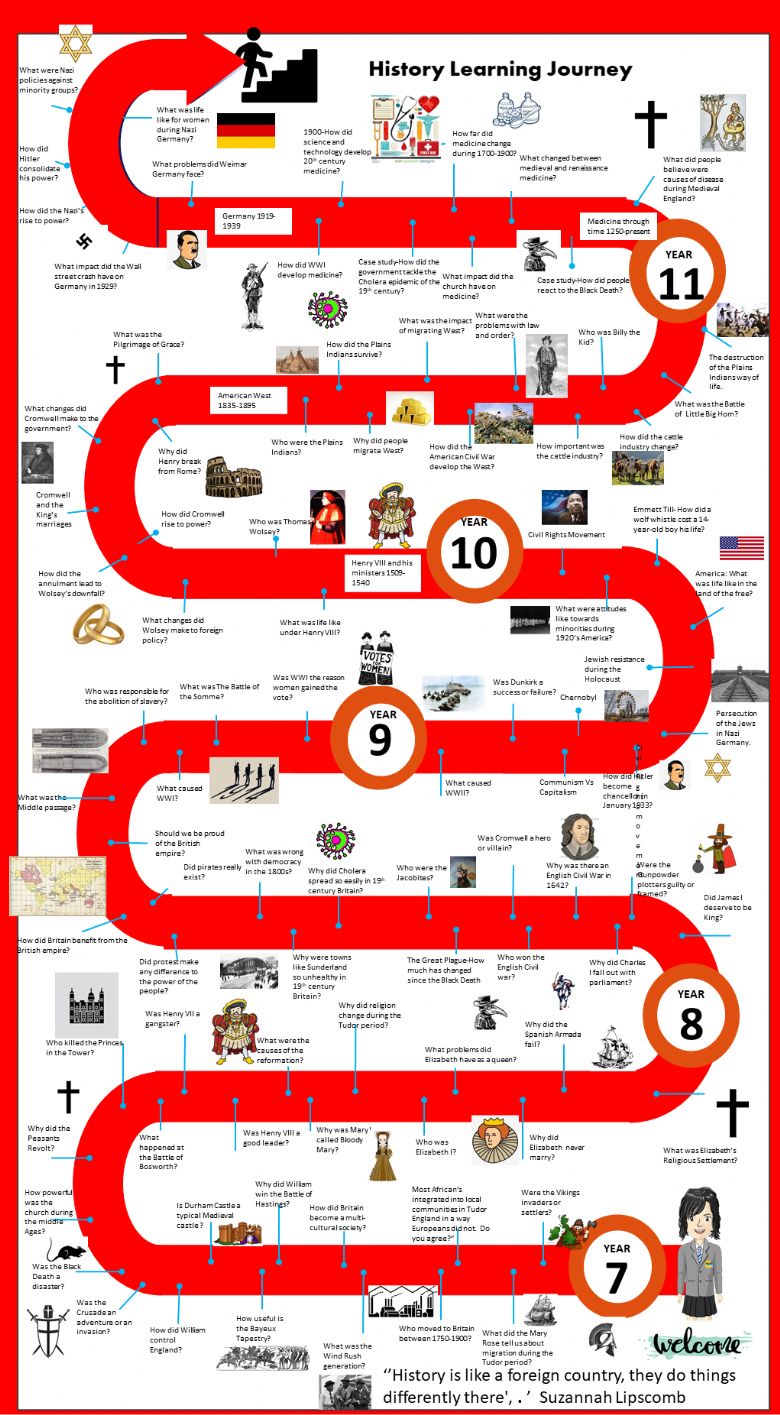 Literacy
At Thornhill, we have a strong focus on the development of an effective literacy skillset because we recognise its importance to academic success and achievement. Across the curriculum, we support and challenge pupils to develop their skills in Reading, Writing, Speaking, and Listening.
Each term, we have a whole school focus on one key aspect from each of the skills above to ensure pupils have the best possible chance to develop these vital abilities that underpin their learning.
Reading
Reading is the key to unlocking success in all subjects. With this in mind, our ongoing aim is to develop independent, committed readers and to foster a love of reading.
One way in which we do this is through the Accelerated Reading Programme, which every Key Stage 3 pupil is involved in. Each pupil is expected to choose a reading book from our extensive Learning Resource Centre and to keep it with them in order to read every day. In this way, a book is an essential part of the school uniform along with a bag, pen, pencil, ruler, and homework planner.
The Accelerated Reading Programme is individually tailored to each pupil's reading ability, ensuring the books they choose are not too easy or too challenging, giving them the best chance of progress and success. Pupils' efforts and progress are rewarded with an end of year celebration at which prizes are awarded for the number of words read and quizzes passed.
We would ask parents and carers to help us to make this programme a success by:
Encouraging your child to read at home
Asking them about their reading
Reading with your child
Reminding them to put their book into their bag each morning
Another programme enjoyed by our pupils is Reading Plus which is an engaging, interactive reading intervention which all pupils will access during years 8, 9, or beyond. Activities encourage pupils to improve their vocabulary and reading speed as well as develop comprehension and inference skills. Instant feedback, 'unlocking' of new features and the game-like format allows pupils to make progress in an enjoyable and rewarding manner. Pupils are issued with an account in year 8 which allows them access from home or from a personal device which allows Reading Plus activities to be issued as part of the English homework policy.
Drama
Here at Thornhill Academy, we believe that drama is not just an extra-curricular activity, but a vital subject in allowing each student to develop both academically and socially. Drama provides students with a new and interesting way of learning, making it accessible to all. As well as giving them a better understanding of themselves and the world around them. Thus, focusing on the child as a whole, whilst still stretching and challenging them to reach their true potential.
Key Stage 3
The student journey begins with pupils exploring the importance of developing vital social skills and the ability to be able to collaborate with others. Making clear links across subjects and to wider life. Through a spiralled curriculum, students continue to recap and develop these key life skills, as well as key academic concepts which are presented repeatedly throughout the curriculum in an engaging manner. Topics covered in drama include:
Ancient Greek Theatre (Oedipus)– Students get to explore the origins of drama and make clear links to how staging and technical elements have changed through time. Students will not only have the opportunity to create their own amphitheatre, but also collaborate as a team to bring a play to life.
Shakespeare- Students can often struggle with the language presented in classical work. Within this scheme, we practically explore the opening scenes of some of Shakespeare's plays. Looking at the language used for different characters and how we can stage a scene, making it accessible for all. In addition to this, students learn the art of stage combat! This is vital as it not only ensures students can present conflict in a safe manner, but also emphasises the importance of trust and teamwork.
Devising – In each year group, students will get to devise their own performance using a range of stimulus provided by their class teacher. This will provide students with the opportunity to demonstrate the skills they have learnt throughout the year and take full ownership of their work. In addition to this, each year group's theme allows them to explore either themselves, the society we live in, or the issues faced in school e.g bullying, identity or politics.
Key Stage 4
For students who have opted to continue their studies of Drama here at Thornhill Academy, they will continue to develop and refine their craft following the AQA GCSE specification and be fully supported by a qualified drama teacher.
During their time on the course, students will practically explore the play Blood Brothers by Willy Russell in preparation for their written exam. Looking at how the play can be staged and the roles in which bring the design elements together. In addition to this, students will also have the opportunity to analyse and evaluate a piece of live theatre! This aspect of the course is worth 40% of students GCSE.
For the practical examinations, students will perform 2 extracts from a play chosen by their class teacher. This will ensure that the play is appropriate for the students individual needs, but also stretch and challenges them. This is worth 20% of students GCSE and is marked by an external examiner in Y11.
Finally, students will devise a performance of their own using a range of stimuli! For this aspect of the course students are to take responsibility of their final performance, with their class teacher providing suitable workshops to guide them. This is worth 40% of GCSE and is accompanied by a written log which explains how they generated, developed, and refined their ideas, as well as evaluating their final product.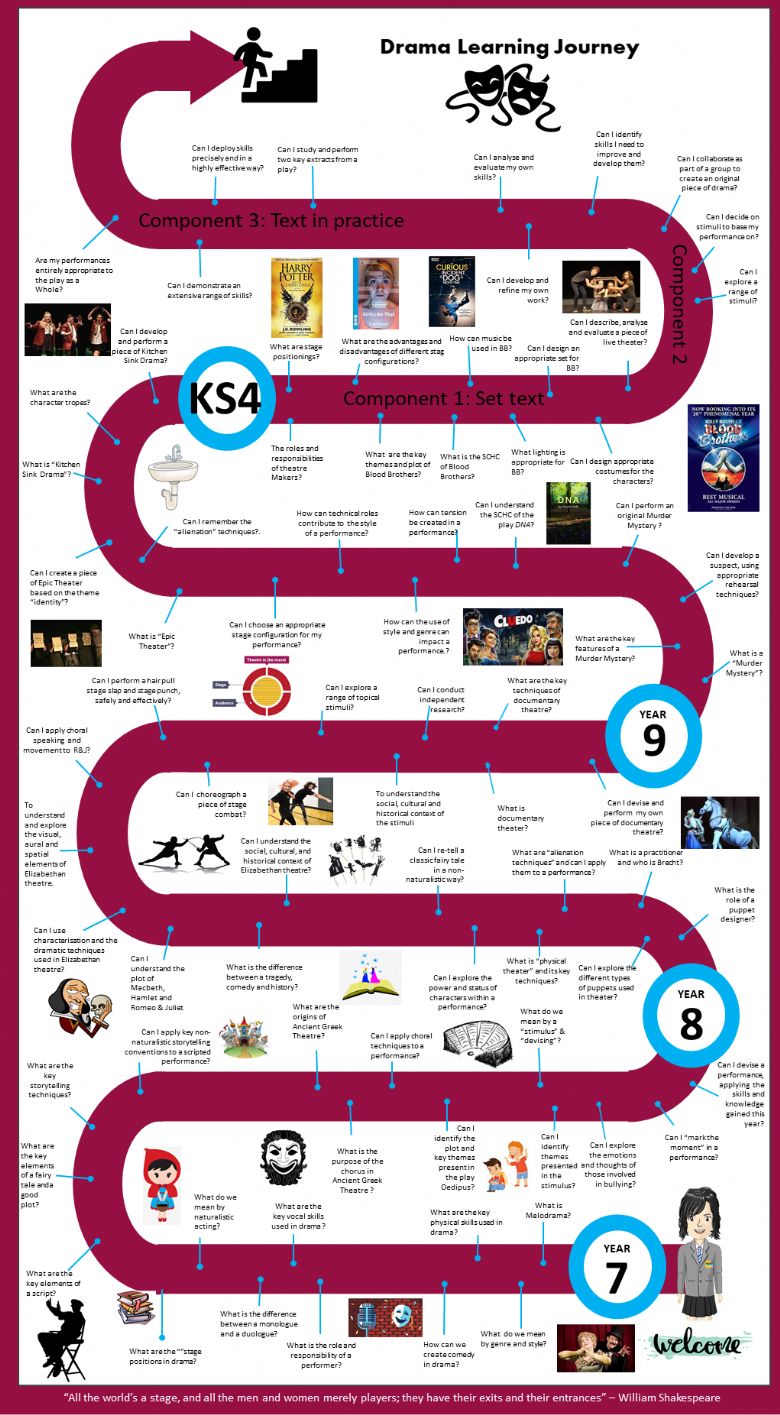 Music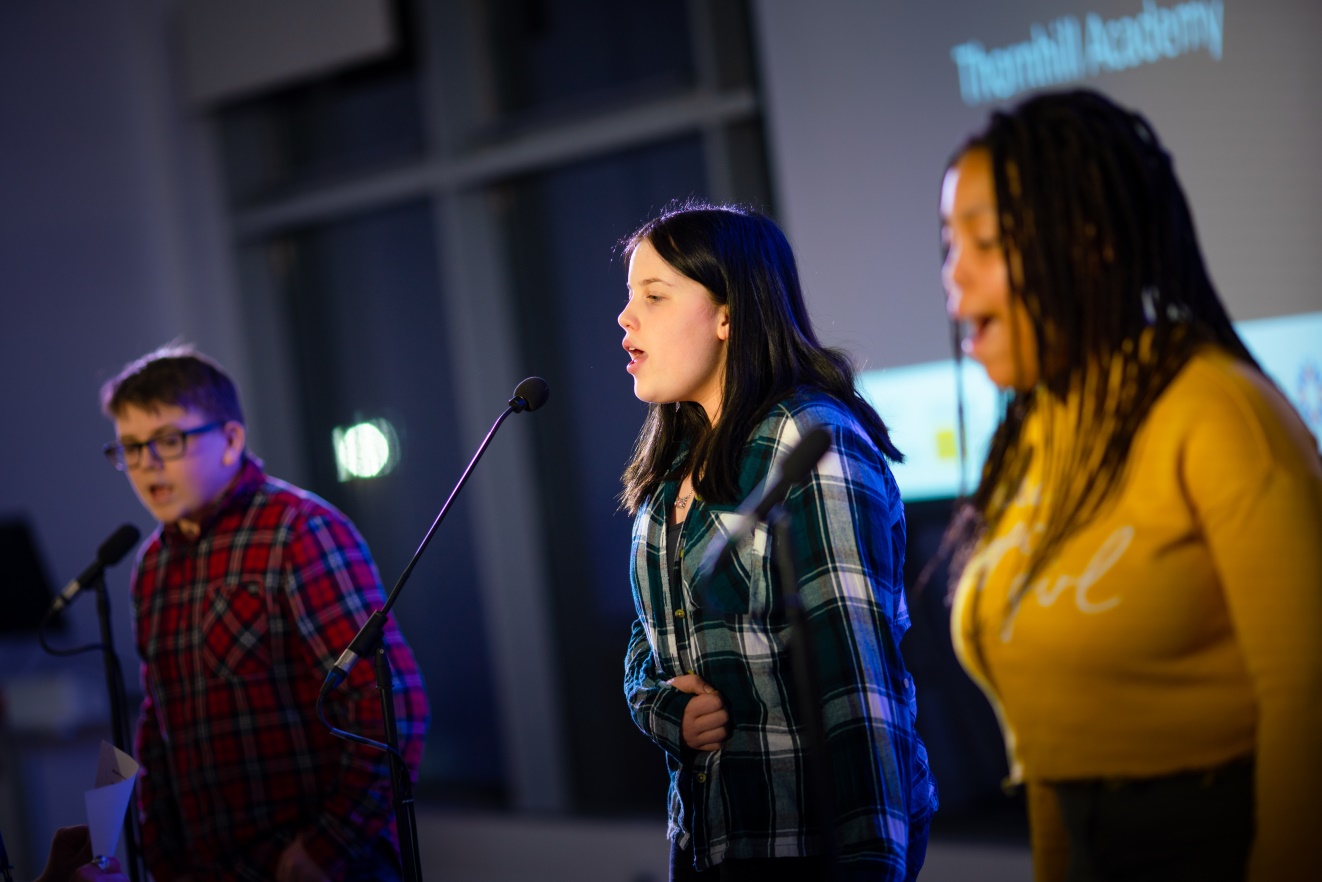 KS3 Music at Thornhill Academy is a creative subject that allows pupils to learn new skills and enjoy making music with other people. KS3 units are designed progressively to build upon on prior learning whilst helping to prepare pupils for their next steps. Pupils have the opportunity to deepen their understanding of a range of genres and traditions through active listening, performing and composing.
From Y7, pupils are exposed to a wide range of music and guided listening activities allow them to develop the ability to talk critically about what they can hear using appropriate musical terminology. Pupils spend much of their time performing on a range of instruments, both solo and in ensembles, exploring increasingly complex music as they develop their practical skills. Pupils also learn the foundations of composing and improvising, beginning with creating melodies and rhythms and as they progress through KS3, they are given the opportunity to develop extended compositional ideas. Each pupil who studies music receives an account on Soundtrap, a world class cross-platform digital audio workstation for our students to continue to create music in their homes.
Building confidence and resilience are essential skills that are developed through our curricular and extra-curricular activities. In addition to peripatetic drum, guitar, keyboard and vocal lessons, pupils have access to enrichment opportunities including ukulele club, Samba band and Choir. Pupils also benefit from performance opportunities, both in school with our 'Good Morning Thornhill gigs' and in the wider community. We actively seek opportunities to encourage pupils to participate in public events such as 'Search for a Star' and 'City Sings'.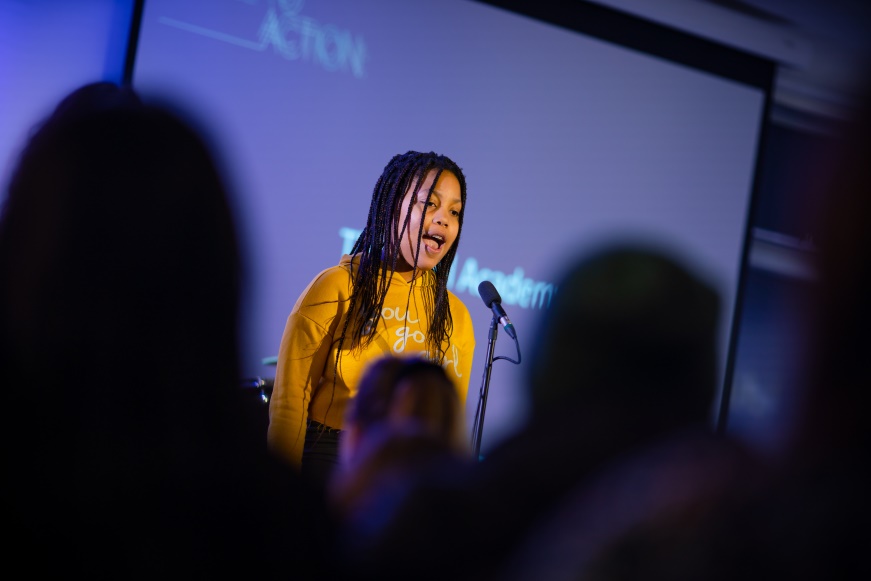 At Key Stage 4, pupils will continue on their musical journey as they follow the Eduqas GCSE Syllabus. Allowing growth in performing, listening skills and compositions. Composing skills will be progressed as students work on producing one composition during each academic year this will represent 30% towards their final grade. Working closely with our excellent peripatetic teachers pupils will continue to improve their instrumental skills and will produce a solo and ensemble performance that will count for 30% towards their examination. Listening skills will account for the final 40% of the final grade as students study set works and increase their aural aptitude and knowledge of musical devices. Pupils will develop leadership skills as they play an active part in the music department helping and supporting all wider curriculum activities and participating in a planning role in all future musical visits.
Further Careers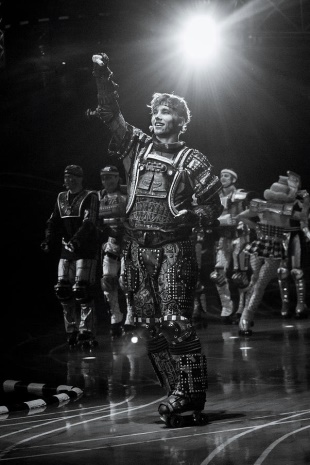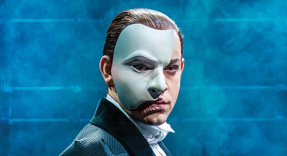 Michael Pickering playing Rusty in Starlight Express. Ben Forster playing the Phantom in The Phantom of the Opera
Music can be studied at AS and A level and degree level. A wide range of post 16 courses exists at Sixth Form and performing arts colleges. We are very proud of our former pupils and have a strong relationship with them and as many have often graced professional theatres around the world we utilise this bond for pupils to see the clear progression from school pupil to Professional Musician. Former pupils include; Ben Forster, Michael Pikering, Beruce Khan, David and Barry Hyde (Futureheads) and Gary Watson.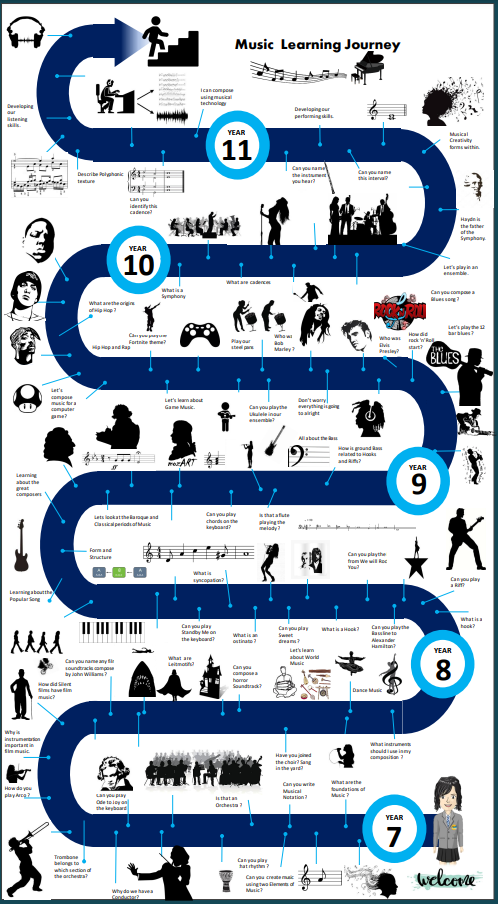 PE
A high-quality physical education curriculum inspires all pupils to succeed and excel in competitive sport and other physically demanding activities. Pupils should be given the opportunity to build on and embed the physical development and skills learned in key stages 1 and 2, and become more competent, confident, and expert in their techniques, so they can apply them across different sports and physical activities.
Pupils will be taught the skills required to analyse what makes performance effective and be able to apply these principles so they can improve their own and others' work. Pupils will explore the core principles of; Net Racket/Striking & Fielding/Invasion Games. Gymnastics and Athletics. Dance. Outdoor Adventure & Activity. Health Related Fitness. The content each year becomes more complex and requires greater skills, understanding of tactics and strategies to overcome opponents, leadership, creativity, and physical literacy.
At Thornhill Academy, we believe that Physical Education and school sport is an essential part of all pupil's educational journey. We aim to challenge and inspire pupils to excel in sport and physical activities which in turn can lead to life changes in terms of improved health, learning achievements and the development of positive relationships. Our broad and balanced curriculum provides opportunities to grow in confidence, achieve better mental and physical health whilst building on our values to ensure fair play, sporting behaviour and equality of opportunity.
Physical Education provides a range of experiences that form the basis for lifelong sporting and recreational activity which inspires all pupils to succeed and excel in competitive sport and other physically demanding activities. We aim to provide physical challenges for pupils to develop resilience and make them more physically literate and confident
KS4 (Year 10-11)
Pupils will have the opportunity to extend their understanding of sport and the benefits of participating in physical activity. Pupils will study BTEC Sport (Level 2), a GCSE equivalent course. This would be in addition to their core PE entitlement.
The course has both practical and theoretical components, spanning four units. BTEC sport is graded from Pass to Distinction, with the final grade being a combination of outcomes from the four units. Unit 1 is an externally assessed online exam, while the remaining three units are internally assessed pieces of coursework.
An outline of this course can be found in the link below.
Religious Studies
The intent of the religious studies curriculum at Thornhill Academy is to help our pupils gain an understanding of the varied beliefs in our school, local, national, and global communities. By understanding these beliefs and views, and how they can influence believers and affect their lives, students are better placed to show tolerance and ultimately coexist. The curriculum also allows and encourages pupils to form their own informed views on many of the big questions in life, as well as a wide range of ethical issues.
Key Stage 3
At key stage 3, pupils study a variety of religions, beliefs, and ethical issues. We start year 7 with our bridging module which acts as the foundation to their further studies. We start with a strong focus on the core beliefs of world religions and the ways in which symbolism is used in different religions to express belief. Moving on, students then answer the question, "Who is Jesus?" as they study beliefs about and influence of Jesus on Christians as The Son of God and on Muslims as a prophet. Finally, year 7 students answer the question, "Who are Muslims?" as they study the core beliefs of Islam and how these beliefs influence the lives of Muslims in modern Britain.
In year 8, students answer the question, "Who are Christians?" as they study the core beliefs of Christianity and how these beliefs influence Christians in modern Britain. Students then begin to learn about the wide variety of religious and non-religious beliefs around the ultimate questions, "Is there evidence for God?" and "How did we get here?". Year 8 students end the year by answering the question, "Who are Sikhs?" as they study the core beliefs of Sikhs and how these beliefs influence Sikhs in modern Britain.
In year 9, students begin the year by investigating religious and non-religious beliefs about and responses to the issue of justice and reconciliation. Moving on, students investigate religious and non-religious beliefs about and responses to issues involving prejudice and discrimination including core beliefs about equality and tolerance. Finally, year 9 and key stage 3 concludes with a study of religious and non religious responses to the question "Can there ever be a lesser of two evils?" as our students examine a variety of view points on and beliefs about a range of challenging ethical themes.
Key Stage 4
In year 10 and 11, students studying religious studies study AQA GCSE Religious Studies Syllabus A. The course is split into two main areas, each with an examination lasting 1 hour and 45 minutes to be sat at the end of year 11. By the end of year 11 students will have studied the following units of study:
Exam 1- Beliefs and Practices
Christianity Beliefs
Christianity Practices
Islam Beliefs
Islam Practices
Exam 2- Thematic Studies (non-textual)
Students will study similar and contrasting Christian and Muslim beliefs about and responses to the following contemporary themes:
Religion and Life
Religion, Crime and Punishment
Religion, Peace and Conflict
Religion, Human Rights and Social Justice
The full syllabus in detail can be found at: https://www.aqa.org.uk/subjects/religious-studies/gcse/religious-studies-a-8062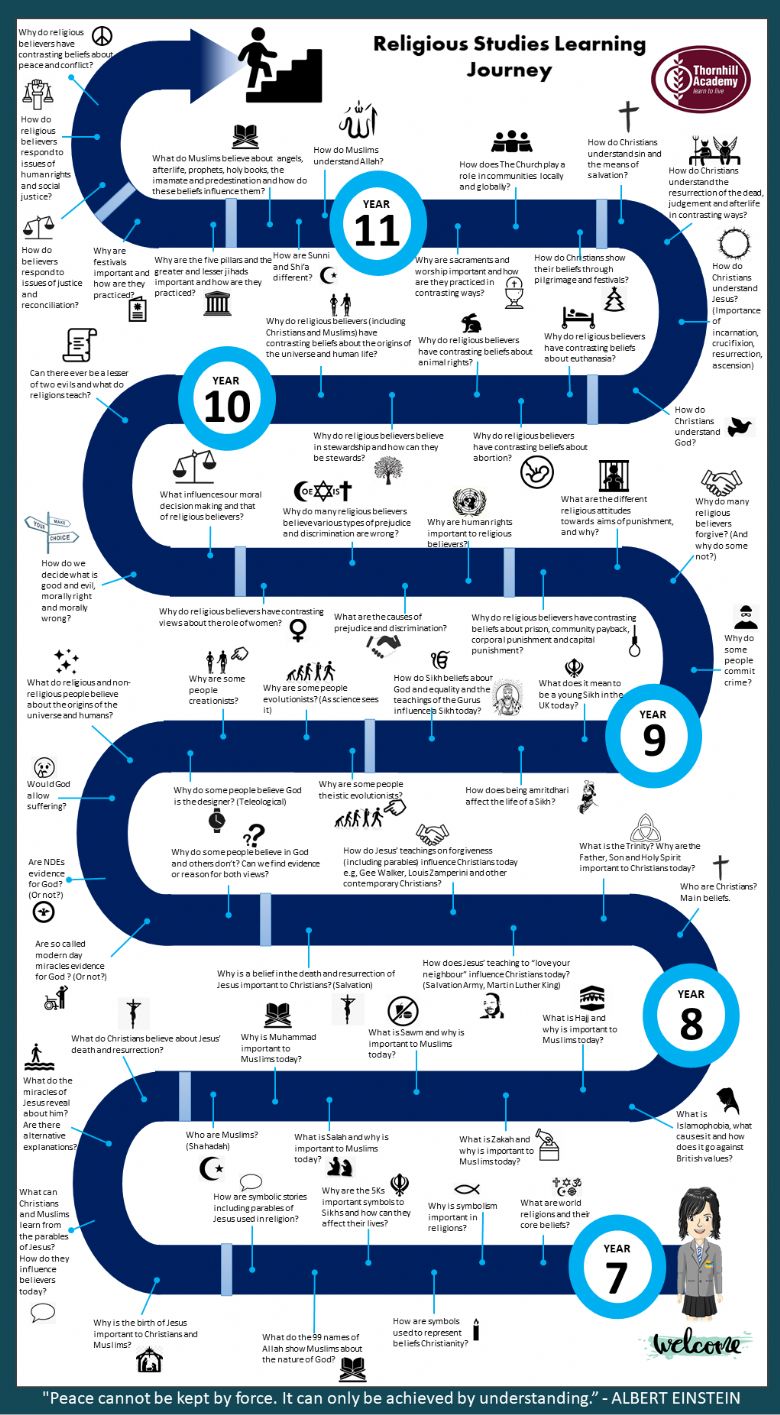 Business
At Thornhill Academy we want our pupils to THINK BIG. All pupils are given the opportunity to study a business-related subject through to the end of Key Stage 4. We currently offer OCR Enterprise and Marketing and BTEC Tech Award in Travel and Tourism.
OCR Enterprise and Marketing
OCR Cambridge National in Enterprise and Marketing gives students the practical skills and applied knowledge they'll need in business. Practical elements build on theoretical knowledge so that students can put their learning into practice while also developing valuable transferable skills through 3 units of study:
Unit R064: Enterprise and marketing concepts
Students explore the techniques businesses use to understand their market and develop products, investigate what makes a product viable and understand how businesses attract and retain customers.
Unit R065: Design a business proposal
Students are presented with a business challenge from which they create a researched and costed business proposal. They will carry out market research, present data, use idea generation tools, seek and act on feedback, and cost their proposals. In their work on this unit they will develop their self-assessment, collaborative working, creativity, numeracy, research and analytical skills.
Unit R066: Market and pitch a business proposal
Students prepare for and pitch the business proposal that they developed in the previous unit. They develop a brand identity and investigate how best to promote their product and then plan, practise and finally deliver their pitch. Afterwards they review both their performance and their business proposal. This will help develop their analysis and self-evaluative skills as well as those relating to self-presentation.
BTEC Tech Award in Travel and Tourism
The BTEC Tech Award is a course designed for pupils who have an interest in the travel industry and might go on to further study at post-16 level.
The course is broken down into three components:
· Component 1 – Travel and Tourism Destinations
· Component 2 – Influences on Global Travel and Tourism
· Component 3 – Customer Needs in Travel and Tourism
Components 1 and 3 are assessed through assignments set, completed, and marked internally and moderated externally. Component 2 is assessed through a written examination that can be taken twice during the course.
This is an excellent course for pupils who wish to gain both knowledge and practical vocational skills that can be used both in the travel industry and other customer service roles.
We teach the units using a range of resources such as videos, case studies, newspaper articles, and travel documents as well as more practical resources including call centre training equipment and real industry-standard simulators at our local college.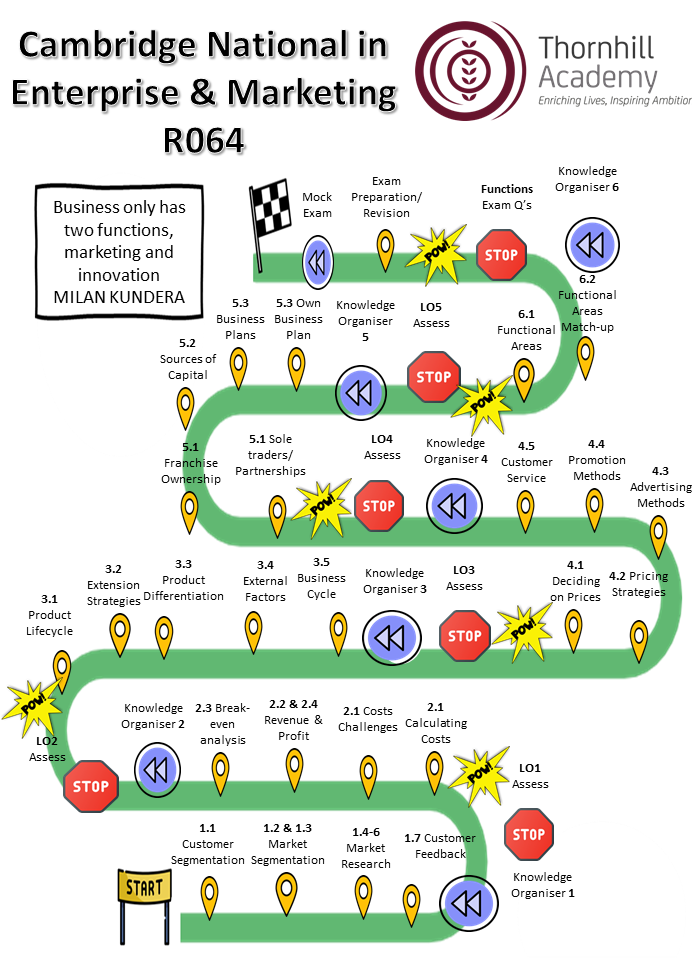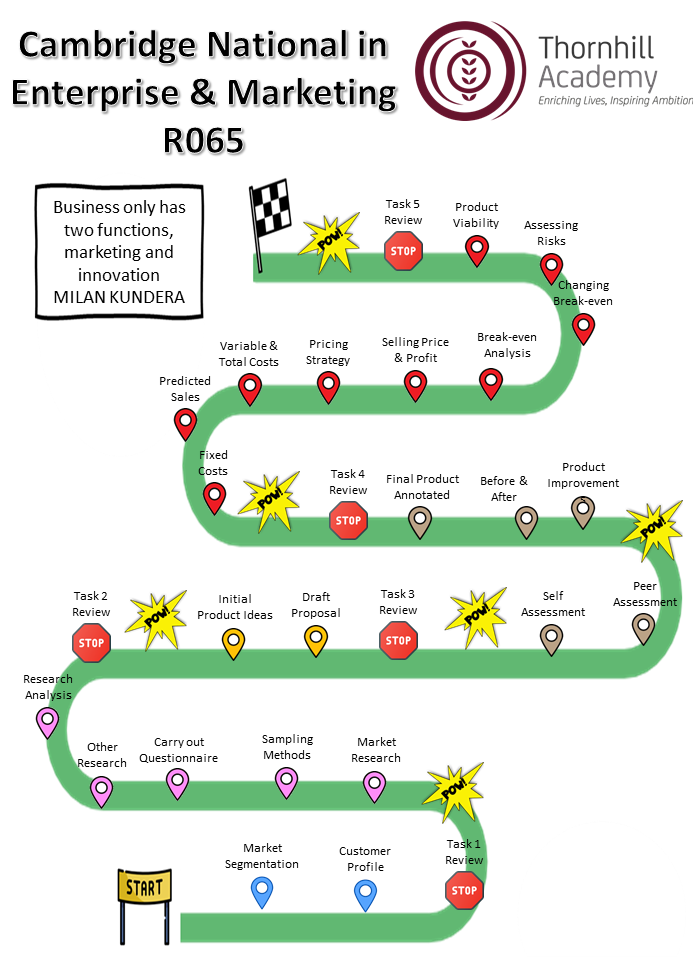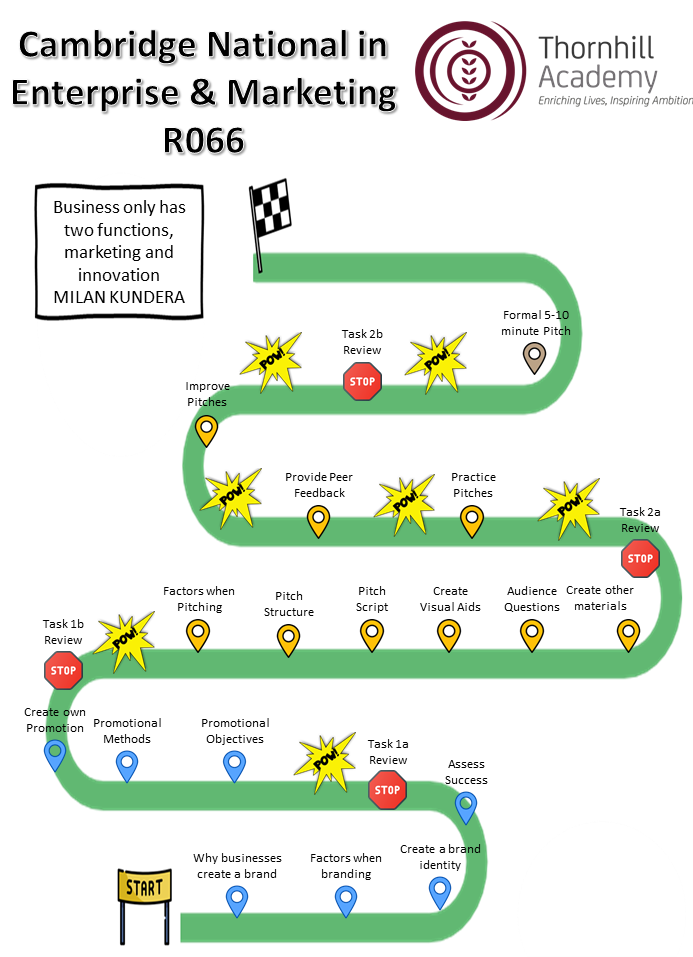 Guidance
What is Guidance?
Guidance is the taught element of the Personal Development program in Thornhill. In Guidance lessons we cover the RSE curriculum, parts of the National Curriculum for Citizenship, the CEIAG curriculum (Careers Education, Information, Advice and Guidance) including financial literacy and also Health and Wellbeing.
From September 2020, Relationship and Sex Education became a statutory requirement for secondary schools to deliver. This forms one third of the full Guidance curriculum.
Our RSE Policy can be found in the Policies section of the website. Parents are asked to direct any queries about this element of the program to the Headteacher in the first instance.
Timetable for Guidance
Students in Key Stage 3 and Year 10 have two lessons of Guidance per fortnight. Year 11 students have one lesson per fortnight. Where possible, each class will have the same teacher for both lessons. Students may study Guidance in ability sets (KS4) or in tutor groups (KS3).
Long Term Plan
Guidance is delivered in 6 half termly units, each academic year, and is organised into three themes: Living in the Wider World, Health and Wellbeing, and Relationships.
Assessment
Guidance is a non-assessed course. However, each unit of Guidance within Thornhill is assessed using "One Best Piece of Work". This is usually a written or creative piece of work produced by each student in the year group at the end of the half-term. It encourages the students to share their thoughts and opinions about what they have learnt. The teaching staff can then assess the extent to which the students are able to articulate these opinions and compare pieces of work across the year group. They also award each student a level of mastery for their work.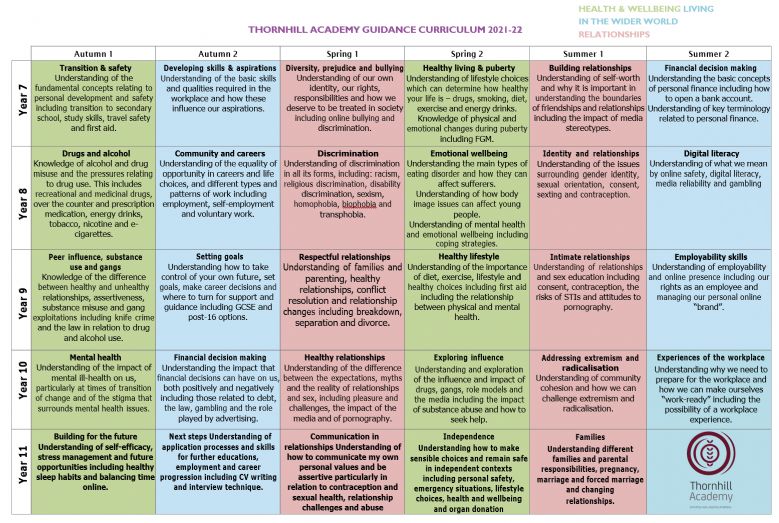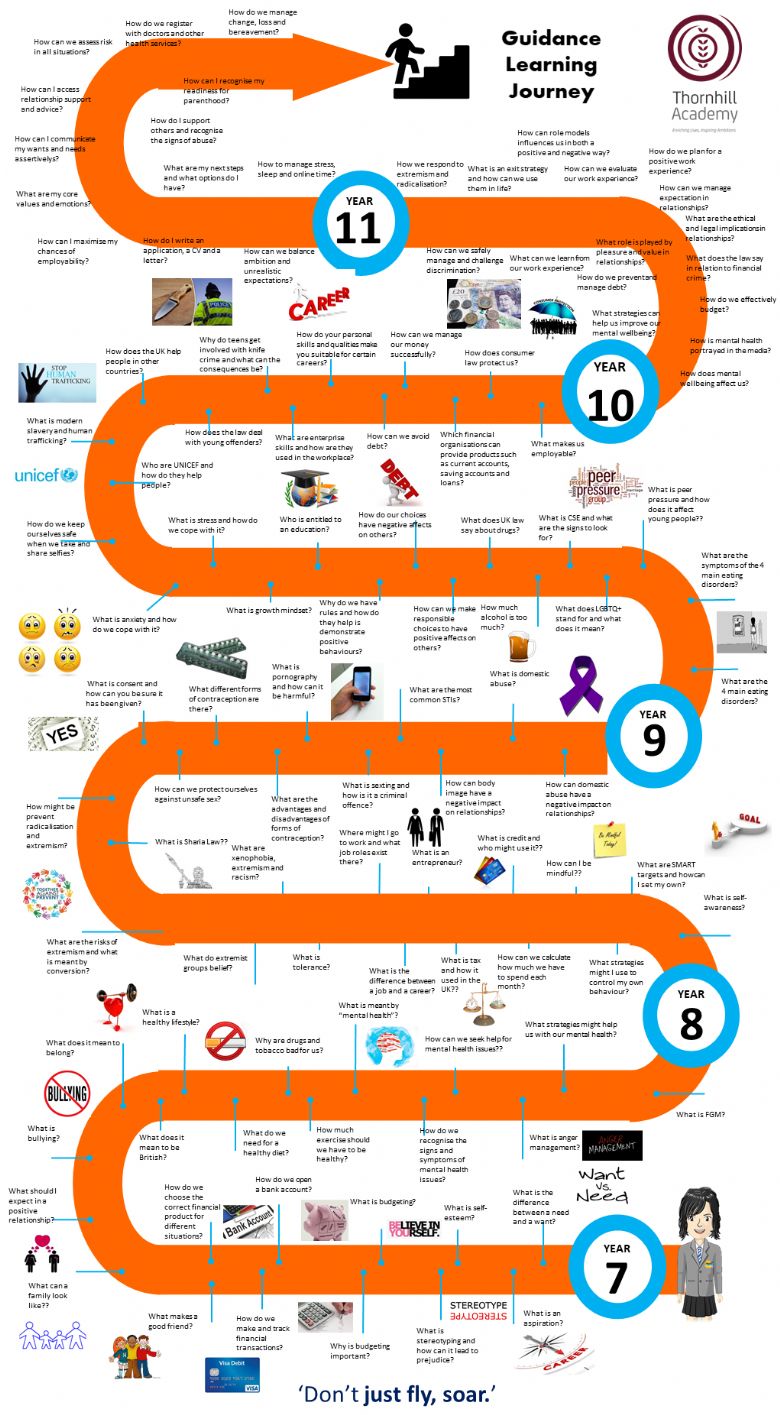 Photography - Year 10
GCSE Photography Year 10
Themes

Knowledge and skills

Activities

Links to learning

Term 1a

Introduction to Photography-

Learning to look and learning to control

How does a camera work?

Elements of photography, art and design

Composition rules (and how to break them!)

Shutter speeds

Apertures

Photos Safari

Photographic alphabet

Shutter speeds- Capturing Jumping, running, throwing.

Shutter speeds- Capturing light

Aperture- Sweets and Nature

Inspiration

John Baldersari
Sarah Graham

Students can access respirces by signing in with their school log in details

Term 1b

Natural and geometric-

Developing a mini project

Exploring a theme

Comparing and analysing the work of others (formal elements and techniques focus)

Photography lighting

Studio photography equipment

Planning photoshoots- responding to other photographers

Image and ideas development

Coherent presentation skills

Digital editing tools

Image adjustments
Filters
Layers
Transform tools

Mind mapping and mood-boards

Verbal and written analysis

Venn diagrams for comparisons

Guided photoshoots

Pre-planned photoshoots

Introduction to www.photopea.com

Power point portfolios

Inspiration:

Karl Blossfeldt
Imogen Cunningham
Lucy Shires
Alexander Jacques
Andy Goldsworthy

Term 2

Concealment

Developing a sustained and personalised project

Exploring a personalised theme

Comparing and analysing the work of others (conceptual focus)

Evaluating the use of elements to communicate a concept

Portrait Photography

Studio equipment
Off camera flash and gels

Experimental photography

Responding imaginatively to diverse themes

Personal, coherent and creative presentations skills

Digital editing tools

Layer masks
Lasso tools
Layer blends
Montage
Double exposure

Traditional editing tools

Mind mapping and mood-boards

Primary research- responding to prompts

Secondary research- written analysis

Detailed evaluations of own and other's work

Pre planned photoshoots

Studio Portraits
Concealed selfies
Concealed lenses
Vanitas

Development and refinement of images

Inspiration:

Lucas Simoes
Maurizio Anzeri
Mimmo Rotella
Gillian Wearing
Adam Hale