THORNHILL STUDENTS VISIT CITY HALL TO VIEW SUNDERLAND REGENERATION PLANS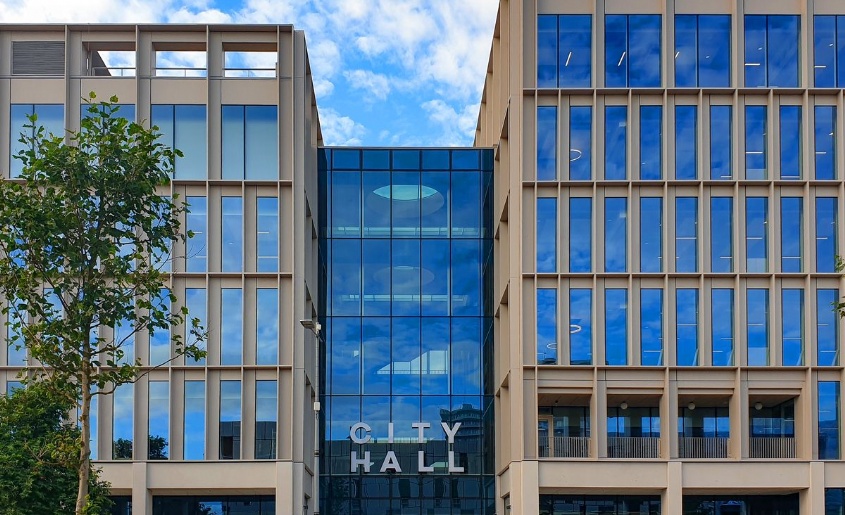 29 September: Secondary school students from Thornhill, part of Consilium Academies, were invited by The Right Worshipful the Mayor of the City of Sunderland, Councillor Dorothy Trueman to be her guests at City Hall to view the city's regeneration plans and to understand the inner workings of the chamber.
Thornhill Student Council members and head students represented the school and enjoyed a tour of City Hall and the chance to speak to Cllr Trueman about her new role, civic functions, council meetings and the plans for Sunderland's regeneration programme. The students were also able to get a bird's eye view of the city from the rooftop garden to get a greater perspective and a deeper understanding of how building plans will change the skyline.
The Mayor invited Thornhill school representatives to City Hall following a moving performance by the Thornhill student choir singing 'Somewhere only we know' and 'Shipyards' at the Remembering Srebrenica event held at the Sunderland Minster in July. It was to mark the anniversary of the Srebrenica genocide, which took place during the Bosnian War (1992-5).
Susan Hamilton, Headteacher at Thornhill Academy, part of Consilium Academies, said: "The visit provided an excellent chance for our students to see how the skills they are acquiring through their participation in the school council can be applied in the context of local government. These skills include community leadership, effective communication, and the ability to engage in partnerships and teamwork."
The Mayor of Sunderland, Cllr Dorothy Trueman, said: "It was a pleasure to spend the afternoon with Thornhill Student Council members and provide them with insight into the workings of local government. After all, they, along with their peers, will be the future stewards of the City.
"In the coming years, Sunderland will undergo a significant transformation, with the addition of new buildings, residences, and architectural landmarks that will reshape the city's skyline. I was delighted to be able to engage the students, by allowing them to witness these developments firsthand and understand how it will change their community for the better."