Thornhill Academy Welcomes Mental Health Support Bus ​​​​​​​​​​​​​​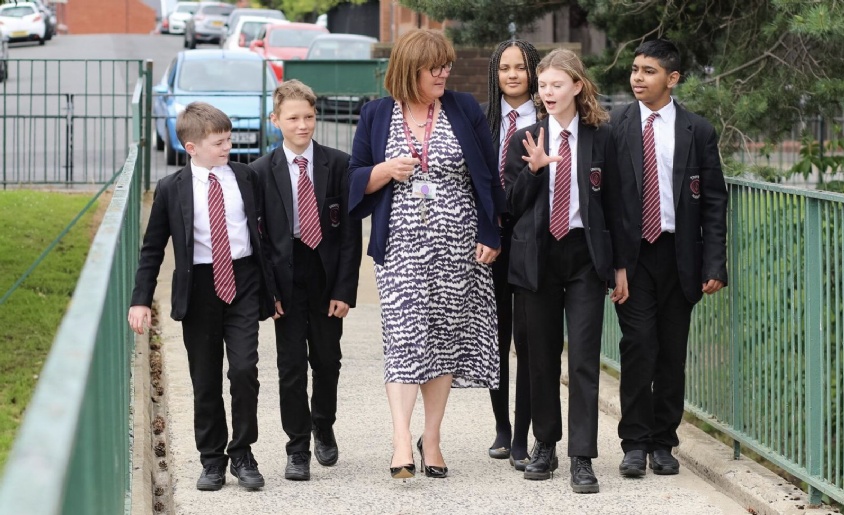 Thornhill Academy, part of Consilium Academies, enjoyed a visit from the 'Wear Here 4 You Bus,' a mobile mental health support unit equipped with a variety of engaging activities. The visit took place to mark World Mental Health Day, offering 110 Year 7 students an opportunity to explore essential mental health resources in an interactive and informative way.
The 'Wear Here for You Bus' , supports the Sunderland Healthy City Plan vision to support children and young people in Sunderland to have healthy and happy lives. It provided an immersive experience for the students, featuring a range of activities aimed at promoting mental health awareness.
From interactive workshops to insightful discussions led by experts, the bus became a hub of learning and support throughout the school day. Students participated in activities designed to enhance emotional resilience, promote positive relationships, address anti-social behaviour, and equip them with effective strategies to combat bullying.
There were a number of different one-hour long workshops that the students attended throughout the day including:
The SAIL Project, an acronym for Sunderland Altogether Improving Lives, and its City Centre Anti-Social Behaviour Team offered insights on community safety and fostering a sense of security.
Together for Children Sunderland's Relationship, Sex and Health Education (RSHE) team helped students to develop the vital skills to make informed decisions about their sexual health, wellbeing, self-esteem and relationships.
Anti-Bullying Team: Addressed the critical issue of bullying and empowering students with effective strategies to combat it.
Emotional Resilience Team: Equipped students with tools to enhance emotional strength and resilience in the face of challenges.
Leigh Coates, Head of Safeguarding and Wellbeing at Thornhill Academy, said: "It was inspiring to witness our Year 7 students embracing the wealth of activities on the bus. This initiative serves as a significant step toward equipping our students with the necessary tools to maintain their mental wellbeing. We believe that these experiences will not only benefit our students but will also resonate positively within our school and the wider community."
Headteacher Sue Hamilton shared her thoughts on the event: "At Thornhill Academy, we are deeply committed to fostering a nurturing environment for our students. Welcoming the 'Wear Here 4 You Bus' reflects our dedication to providing comprehensive mental health support. We believe that by actively engaging with these resources, our students are better prepared to navigate life's challenges, both within and outside the school gates."
The success of this initiative and the launch of Thornhill's new Wellbeing Centre – a dedicated space designed to provide essential advice, support, and guidance to students and their families - has ignited the academy's enthusiasm for future collaborations with partner agencies.
By providing accessible, interactive, and engaging resources, Thornhill Academy is shaping a positive and supportive environment for its students.