Thornhill Academy gives students chance to experience live theatre with a free trip to the Sunderland Empire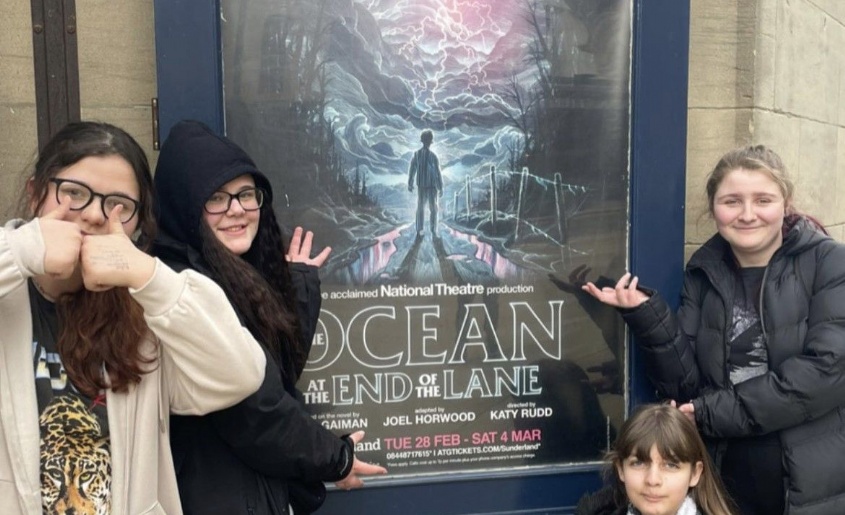 On Thursday 2nd March, 37 Thornhill Academy students had the chance to visit the Sunderland Empire to watch the National Theatre's major new stage adaptation of the Ocean at the End of the Lane.
This is a free opportunity, thanks to funding from Arts Council England, for these local students to experience live theatre. For some students this was their first experience of the theatre.
Thornhill Academy works very closely with Sunderland Empire and the National Theatre, most recently with their Speak Up programme, which allows students to work with local artists to develop work which covers topics which are important to them. As a result of this, Thornhill students were lucky enough to be offered free tickets to help get young people to experience theatre.
This opportunity allowed all Year 10 GCSE Drama and some Year 9 students to experience live theatre and see first-hand how both the actors and design elements all come together to put on a production.
Ava, Year 9 student at Thornhill Academy, said:
"Great opportunity and experience to go on a trip with the school and see the actors perform."
Oyinni, Year 9 student at Thornhill Academy, said:
"It was really good! I learnt that lighting in drama has a great effect on a performance, I am so happy I went. I want to watch more now!
Sophie, Year 10 student at Thornhill Academy, said:
"It was an exciting and great opportunity."
Sue Hamilton, Headteacher of Thornhill Academy, part of Consilium Academies said:
"We are very lucky to have fantastic links with Sunderland Empire and I am really passionate that our students get the same opportunities to see and experience the fantastic performances happening right on our doorstep.
"Performing arts is a central part of our exciting offer to students. Exposing young people to the arts in this way is not only a fun experience but serves to do so much more than entertain. These life experiences can often inspire and give them a flavour of something they might like to pursue, whether it's a hobby or a career.
"We are grateful to Arts Council England for making this a possibility for our students, many of whom have not experienced love performances before."