LOCAL AUTHOR ANNIE FLANAGAN MARKS WORLD BOOK DAY AT THORNHILL ACADEMY ​​​​​​​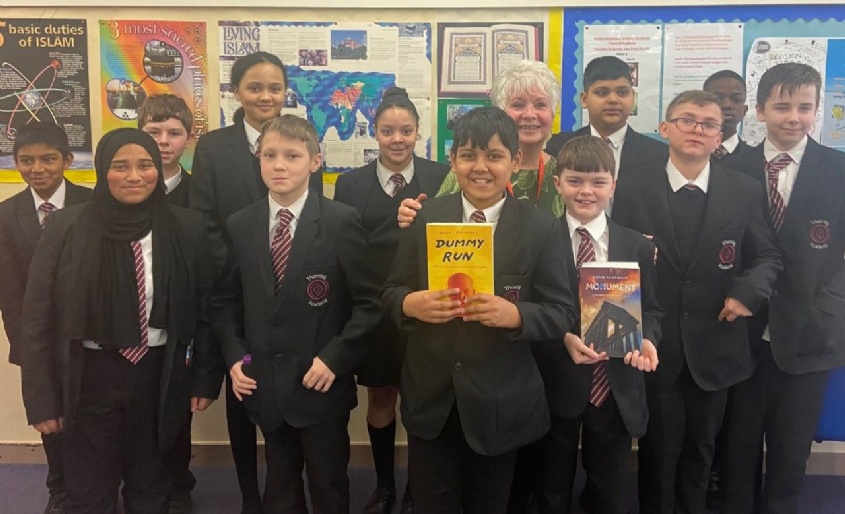 On Wednesday 1 March, local best-selling author and former English teacher, Anne Twine, who writes under the pseudonym Annie Flanagan, visited Thornhill Academy to give a series of talks to Sunderland students about becoming an author.
To mark World Book Day this year, Anne spoke to students about her books, Monument and Dummy Run, and her third book which is about to be published, which are all heavily relatable for teenagers. Anne will also read a short extract from her new book to the students.
Liam Clark, Deputy Headteacher at Thornhill Academy, part of Consilium Academies, said:
"We invited Anne into school to help us with our World Book Day celebrations because she is a local author who has written books inspired by our city and catchment area. The children have been able to listen to how Anne has constructed her books and spot themselves or their friends in the characters that she has written about.
"World Book Day is a fantastic celebration, and this is just one example of how our young people are developing as readers. In reality reading is prioritised at Thornhill in each lesson, every day. We want our youngsters to read like scientists, geographers, and historians, each and every day."
Ridwan, Year 7 student at Thornhill Academy, said:
"Reading makes me feel calm. It allows me to let out my imagination. It is more than a bunch of words. If you read properly then you can let out your imagination.
"Yesterday, we read a book about a boy who had a lot of fears and how he was trying to overcome then.
"The book is brought to life because it is relatable."
Anne Twine, local best-selling author, and former English teacher said:
"I am the first author to have featured Penshaw Monument in a novel and when the children of Sunderland see the front cover, they immediately relate to the book, and they know where it is set.
"Children are able to see themselves in the characters, that is what makes the book relatable."