Multi-Academy Trust of the Year!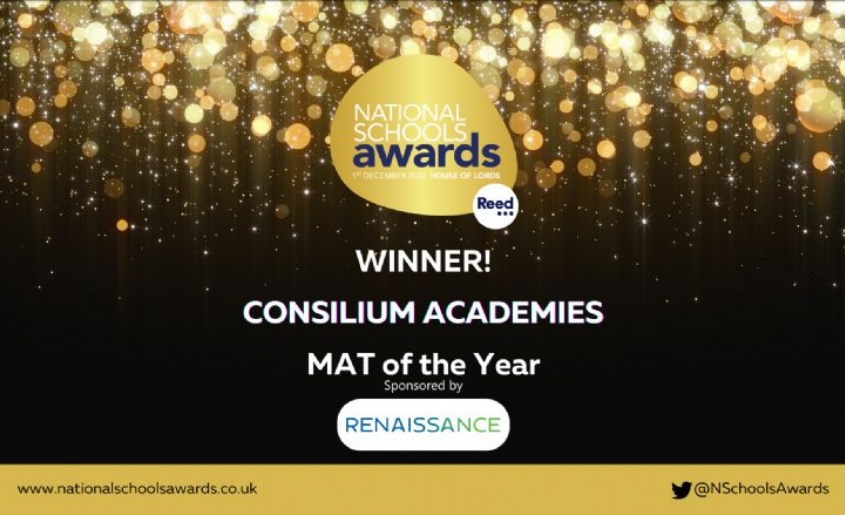 Consilium Academies has been named as Multi-Academy Trust (MAT) of the Year at The National Schools Awards 2022, which took place on 1 December at the House of Lords in London.
Selected from a strong field of academy trusts, we have been recognised as a trust with a clear vision, organisational strategy, and culture of collaboration, which is leading to better outcomes for every child in their care. The judges commented that Consilium is a trust that lives and breathes its values and does not rest on its laurels.
We have an exemplary strategic vision to put funding back into the classroom and provide an excellent learning experience for every child across its nine schools in the North West, North East and Yorkshire. In 2020, Consilium introduced a centralised pool of funding and resources to give every one of its 6,236 students exactly the same opportunities.
Consilium schools have worked collaboratively to share ideas and best practice, especially in the face of challenges such as the COVID-19 pandemic, while placing a focus on the arts at the heart of the curriculum and wider school life, including enabling every student to have the opportunity to learn a musical instrument. Consilium schools have shown rapid improvements as a result, with all nine schools receiving either 'Good' or improving Ofsted outcomes since 2019.
The National Schools Awards 2022 brought together over 250 school and MAT leaders alongside frontline practitioners, to reward their contributions to the education sector over the past year. As the sector continues its journey towards recovery from the pandemic, as well as ongoing funding and recruitment challenges, the Awards celebrate the achievements of schools and leaders in uncertain times.
The judges of MAT of the Year 2022, Tim Bowen, Immediate Past President of the NAHT, and Steve Edmonds, Director of Advice and Guidance at the National Governance Association, said:
"It was a privilege to be part of the judging team that awarded Consilium Academies the award for MAT of the Year at the 2022 National School Awards. We agreed unanimously that, amongst a strong field of shortlisted trusts, Consilium stood out for their clear vision, organisational strategy and culture of collaboration leading to better outcomes for every child. It was clear that this is a trust that lives and breathes their values and does not rest on its laurels. They are a role model for the sector."
David Clayton, Chief Executive at Consilium Academies, said:
"We are so honoured to have been named as MAT of the Year 2022. At Consilium, we are a team that really cares about every member of our community. And we mean it.
"So, for our dedicated team to be celebrated and recognised in this way, for the focus they all place on giving all our children the best opportunities and care is the most wonderful accolade we could ask for.
"Over the last few years, our team has achieved incredible things – from supporting our students through the challenges of the pandemic, to improving the performance of every one of our schools. Which is all made possible because of our collaborative ethos and focus on equity for every child in our care."