LOCAL STUDENTS CHOSEN AS FLAG BEARERS FOR SUNDERLAND A.F.C MATCH ​​​​​​​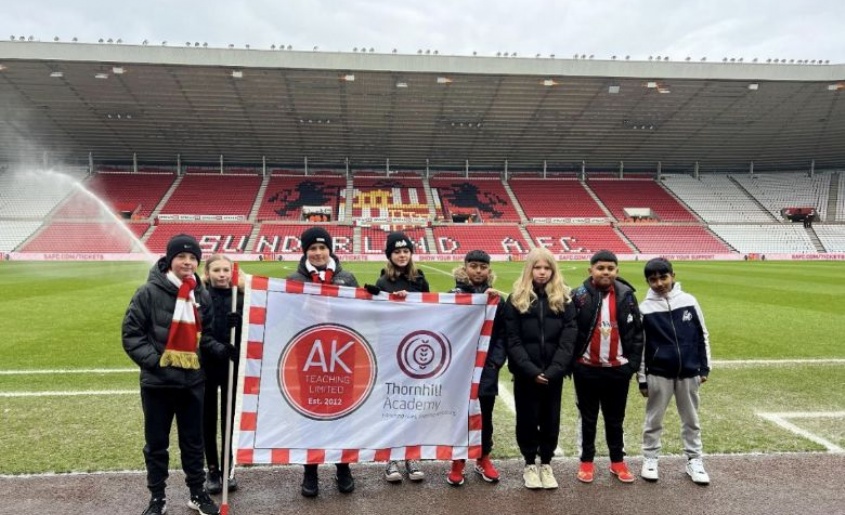 Thornhill Academy students "given the chance to shine" at Sunderland vs Middlesbrough game
Eight proud students from Thornhill Academy, part of Consilium Academies, have been chosen by Sunderland A.F.C as flag bearers for a home match against Middlesborough, which took place at the weekend, on Sunday 22 January.
Year 7 and 8 Thornhill students were given the unique opportunity to walk out on Sunderland AFC's pitch prior to kick-off, as a reward for their 100% attendance and excellent behaviour at the start of this term. Afterwards, they were lucky enough to watch the match and experience the atmosphere of the stadium.
The opportunity comes as part of the school's attendance and behaviour strategy, which rewards students with exciting prizes when they attend well and behave as expected. The tickets were kindly provided by teacher supply agency, AK Teaching, who are one of the main sponsors of Sunderland A.F.C.
Ridwan, Saqeeb and Taieb, Year 7 students at Thornhill Academy, said:
"We had so much fun at the match, thank you so much to our teachers for this opportunity!
"Everything about the day was great, we got high fives from the players, it was the best."
Susan Hamilton, Headteacher at Thornhill Academy, part of Consilium Academies, said:
"It was an honour for our students to be given the chance to shine by Sunderland A.F.C and make our school community proud this weekend.
"At Thornhill we have a positive school culture which rewards and praises excellent attendance and behaviour. These students thoroughly deserved this wonderful experience, and we look forward to rewarding more students in this way across the year. Thank you to AK Teaching and Sunderland A.F.C for this opportunity."